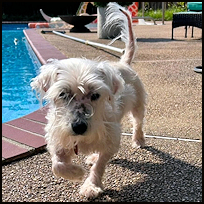 Note to all the loving fans of sweet Macon in TN. We decided to try Macon in a different environment – a quieter home with no other dogs. Well guess what? It brought out all of Macon's best qualities. He's been so happy! Read on to hear more!


An UPDATED Poem by Macon to his Future Family: Roses are Red, Violets are Blue, oh, won't you give me the chance to love you? You see, my senior years haven't exactly been rosy I was found at the Memphis Animal Shelter – sick, skin and bones, and hair loss everywhere but my little nosey. I knew the road to feeling like myself again would be a long one. Because of SLR, I have been neutered, received a dental, and my hair is growing back a ton. What isn't coming back so well is my hearing (my eyesight is much better than many thought!) But I promise that lacking that doesn't make me any less endearing. You see, for all that I've been through, I am oh so loving and sweet And for a senior, I have quite the spring in my step and my feets. My first foster family loved me with much care and patience And as much as I would have loved to stay with them forever, we all know it doesn't quite make sense. You see, I just haven't been able to get used to being around other dogs I try to play, but my poor sight and hearing seems to make my play appear more like that of an angry hog. I'll also be honest with you, I'm not so keen on sharing my foster mom's lap After all I've been through, I think I deserve endless peaceful, uninterrupted naps. I've made progress in so many ways, oh, I hope you are proud of me You see, I even potty outside consistently (a consistent potty schedule really helps)!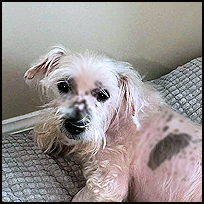 If I said I'd ever be happy with a forever family that is gone a lot, I'd be lying. But for the times when you do have to leave me behind, a quiet, predictable home really helps. I do much better in my crate at night, especially when I'm right next to the bed so you can reach in and touch me to let me know you are there I also enjoy being carried around, like a little cub with mama bear. Because of my hearing and sight I can be a little accident prone. So I would love if you would keep me safe from stairs in your home (or not have any!). Oh how I dream of spending my golden years with you! I promise you we will never have the blues I love to eat, snuggle, and walk with swagger - I love every human I meet Especially when they give me a treat! Sometimes my foster family says I have the energy of a puppy in the body of an old man But really, I am just making up for lost time best I can. Rescue is about taking chances, realizing that our trauma runs deep and we won't be "better" overnight But I promise if you just stick with it, rescues like me can make your lives oh so bright. So if you think you might be willing to take a chance on me, ask for "Macon" in Tennessee!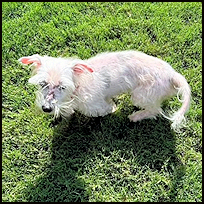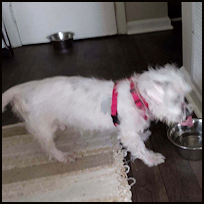 Macon has shown INCREDIBLE progress in a short amount of time in a quiet, predictable foster home. He will thrive in a home with no other pets and a lot of "at home" time, but it does not need to be 24/7 because he's adjusted well to his alone time. A single person or couple with a quiet home would continue to bring Macon out of his shell and help him exhibit his happy self!! He's always loved every human and still does. He's just a sweet charmer and will be an amazing addition. By the way, he loved attending church services with his new foster mom and was the center of attention.
.