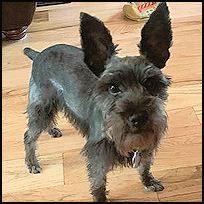 This is my story and I'm sticking to it. My name is Romeo. I am being fostered in North Alabama. I am easy to fall in love with, just ask my foster mom. I have had a rough beginning; been abused, homeless and living on the streets. I am only two years old and 12 pounds. With patience, consistency and treats( lots of them),I've come a long way since then.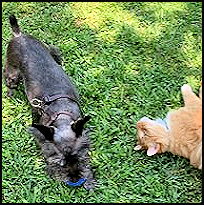 I'm up to date on all my shots, neutered and looking for my forever home. If you are willing to give me time to learn to trust you, we could become best friends.

I need a forever home where my family will continue my training with love and patience. I am not food or toy aggressive. My foster dad groomed me and he said I did better than my foster sisters. Not to brag but I am super smart. I can figure out doggie puzzles very fast. I know stay, sit, wait, come, leave it and am housebroken, no marking or accidents in the house.

Toys are the best thing next to food. Balls are my favorite. I can play fetch for hours. My foster sister SLR Millie and I are good friends but sometimes I play a little rough (she is getting older). I love my foster mom. If she is sitting down, I'm in her lap demanding her attention and love. Wherever she goes, I go. My foster mom said that I could live with her forever but then she wouldn't be able to help another schnauzer who needs her. So, I am looking for my forever home. The best home for me would be a home with a fenced yard, no children (they make me nervous), and a patient, loving and experienced schnauzer owner(s).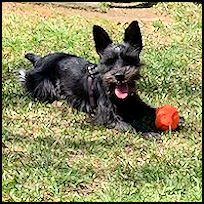 Romeo would do fine as an only dog or with fur brothers or sisters. He has done fine with his foster parents' Schnauzers and visiting Schnauzer gran dogs. He even likes cats. We want an applicant who can travel to north Alabama to meet him, and see how he interacts with the resident
Schnauzers and his foster parents.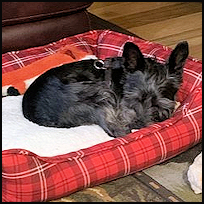 If you can meet all of Romeo's needs , go our website at www.schnauzerloverescue.net , submit an application and be sure to ask for Romeo.