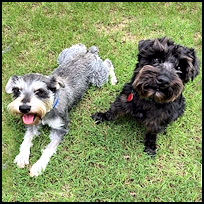 Oh, to experience the love of a sibling! While that love may sometimes show itself in odd ways (lol), many of us can't imagine life without our siblings. This is certainly the case for our sweet, charming bonded pair, Jake and Ollie. Jake and Ollie came to SLR as an owner surrender and have really relied on each other through the transition to their foster home. Both of these handsome boys are 4-years-old. Jake weighing 18 lbs is the black one in the pictures, and Ollie weighing 17 lbs is the salt & pepper one. These boys are thriving with their loving foster family via "structure, attention, and rules" – is this is often the magic combo for most rescue dogs, but especially ones who have come through a drastically different environment. Jake and Ollie came from a home where they were outside 100% of the time in an outdoor pen, so just learning to live inside is a huge adjustment! In just a few short weeks both Jake and Ollie have learned the joys of soft furniture, beds, and loving laps. Toys are still a little bit confusing to these boys, but we are sure in no time they may realize the joy of unstuffing! As we mentioned earlier, Jake and Ollie rely on each other a good bit, and that is because in many ways they complement each other!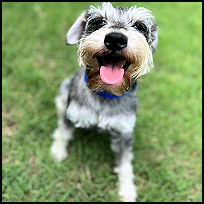 "Ollie is a "typical Velcro dog" who loves being near his foster family – everyone needs kisses from Ollie before they move away," says foster mom. His favorite time of the day is "TV time" after dinner because it means the whole family is together in one spot and he can receive an extra-long belly-rub session. But in those times where his foster family is bustling around a bit more, Ollie looks to Jake for comforting – if Ollie ever gets corrected on his manners, he needs love and reassurance quickly after – he is a very sensitive boy! And like any good brother, there has to be some sibling rivalry – Ollie appears jealous when Jake gets picked up and can take his feelings out on Jake. This jealousy only seems to appear for picking up, not "lap time" on the couch. Ollie also seems to have some sensitivities/fears surrounding objects in human hands…he is learning that objects are not weapons that will hurt him. "What seems to help calm him is when you show him what you have by setting it down, walking away with your hands up, and letting Ollie "check it out,"" says foster mom. Ollie loves to show he is ready for bed by running to his crate for bedtime each night, and waiting patiently for his "night night treat".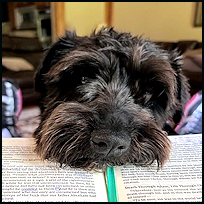 Now it's Jake's turn for the spotlight! Jake is described by his foster mom as a "go with the flow" type of dog. Like Ollie, he loves being near his foster parents, and even LOVES visitors! If you're looking for a Mr. Easy, "extra speedy" schnauzer Jake is your guy. He loves to race at "full speed" around the house; breaks do not exist for him He is busy and he loves fun! His favorite love language? Little kisses! He doesn't seem to have a napping preference, as you will find him on laps, couches, dog beds, the floor, or in his crate, alike. Jake is an extremely loving little boy, and all he wants is love in return.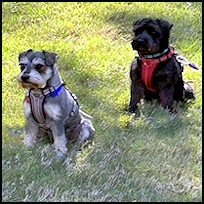 Both Jake and Ollie have learned some words very quickly, including "HOUSE (crate)", "EAT," "RIDE," and "WALK." They are working on "SIT," "STAY," "DOWN," AND "NO." Amazingly for the environment they came from, both boys are house-trained, crate-trained, and leash-trained. We believe they would do well with other schnauzers in the home, or just as a pair since they love each other so much. They have not been around kids or cats. This pair does NOT require a fenced-in-yard. When outside in a pen or on long leads, they simply just sit/stand there, right next to each other, and stare. This is likely due to being outside 100% of the time in their past home. In their foster home, they have thrived with being inside 99% of the time and taking walks on leash. So an apartment or condo would certainly be a fit for these two!

Taking in a bonded pair is one of the most special and rewarding experiences one can have, say many proud bonded pair parents. Do you think you're ready to open your hearts to Jake and Ollie? These sweet boys deserve a life of endless love and pampering after their previous life, so we want their future family to simply adore them in every which way!

If you would love to adopt this precious pair and meet their requirements, please apply and ask for Jake and Ollie in Tennessee. www.schnauzerloverescue.net