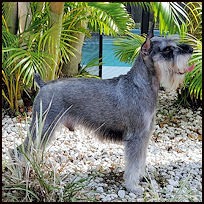 Greetings from sunny Orlando, FL! My name is 'Milo.' If after reading my autobiography, you are interested in knowing more details about me, please complete an adoption application on the SLR web site and enter 'Milo' as the very handsome boy you would like to provide a forever home to.


I am in a wonderful foster home with other dogs. My foster mom is a very experienced dog owner and realizes that I am quite an Alpha boy and want to be in charge of all the other canines. She says I 'don't play well with others.' I must be an only dog. With that being said, my foster mom says I am very sweet and lovable with her.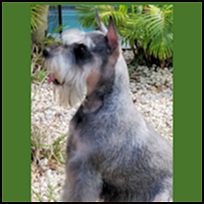 I am only 7 years old and I weigh in at 16 lbs. As you can see from my pictures, I am salt & pepper, have natural ears and a docked tail. I am house and crate trained. I sleep throughout the night in my crate. I am decent on a leash but I will still pull when I see something I want to investigate. There are just so many new sites to take in and so many great fragrances to smell. Foster mom is working on me being a little less excited when I am out and about.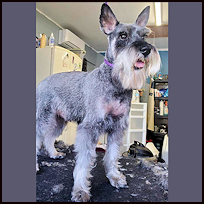 I currently have a lovely backyard to run and play in. Foster mom says my forever home will also have to have this for me. I am a young, energetic Schnauzer who has lots of energy and loves to exercise while running and playing with one of my toys. It is very rare not to see me with one of my many toys in my mouth.
After getting my exercise, I love to sit on the couch with my foster mom. She says, 'I love to be loved.' She tells everyone how very, very sweet and lovable I am.


I am a very healthy boy. I recently had a dental and only had (12) extractions. Foster mom says that is very good for a Schnauzer! I take no prescription drugs – only my monthly preventatives. I can be a little shy and fearful when I am first getting to know you. Little humans that are at least 10 years old should be fine, as they know to respect boundaries.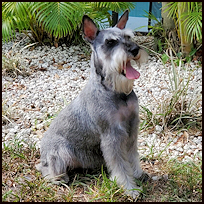 If you feel you are the wonderful Forever Home I am looking for-


* Experienced dog owner
* No other dogs
* Fenced-In Yard
* Nice couch to sit on with me for some loving time


please complete and adoption application and enter 'Milo' as the handsome, lovable Schnauzer you would like to provide a forever home to.


** A dog does not know how to spell love, but he knows how to show it every day. **