Watch out everyone! Bowser here to steal your hearts! I am a lovable, chunky 26 lbs. (and on a diet ☹ ), I'm neutered, up-to-date on all my vaccines and I'm very healthy, especially for a senior fella. I'm trained and sweet and a really good boy.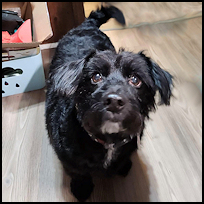 If you haven't been able to guess yet by my ADORABLE stubby legs, I am a schnauzer-dachshund mix. I am 9-years-old and had a mom that loved me very much. When I was confused about why I had to leave my first home, my foster mom later told me that my first mom made a great sacrifice in the name of love – I wasn't safe in my old home, and she wanted a better life for me. My mom wrote a letter to my future family so they could learn about me quicky. My former mom describes me as "very smart and quick to learn." I know "sit," "lay," and "beg". I even know how to close doors on my own, and love to go get the mail (while on a leash, of course)! Even though I love to learn new things, my former mom wants you to know that "he just needs love…he likes to lay on the back of a chair and lay close to you". My former mom overly-spoiled me with food to show her love – I especially loved the green bell peppers, potatoes, and raw okra. The vet tells me that I need to lose about 6 lbs., but that shouldn't be too hard
with how much I love healthy veggies!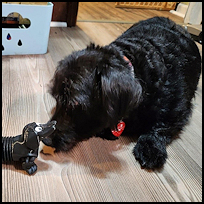 My foster family has been taking the best care of me, which has really helped me blossom and learn lots of new things! I am super sweet and playful, especially for a 9-year-old! I am quickly learning how to share my toys with my foster siblings, as I was used to be the only child and center of attention for so long. I have made great progress in wanting to play with my foster siblings, which shows that I am feeling safe and comfortable. While I love my dog foster siblings, I'm not so fond of my cat sibling – I like to pester him, so a cat in my future home might not be best. Other things I don't like so much? Being picked up. But once I lose a few pounds it might be ok. However, did you know that you have to be extra careful to pick up a dachshund because of their loooong bodies? When we are together, it is easy to let you know what other things I don't like because I use my very deep bark – it might be shocking for my size. But after all, my name is Bowser!!!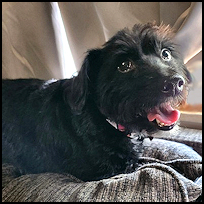 Alright now back to some of the things I love…I LOVE going out in the car for car rides, I do great on leash, and I've been described as a "perfect gentleman" at the vet/groomer. Although I came with a crate, I've shown no interest in it. I have made amazing progress so far in learning to use the potty outside in the yard, but have been wearing belly bands sometime in the meantime to learn. I absolutely adore kisses and attention, so lots of that and I can probably learn anything in no time. Also, my favorite place to nap is on the back of the sofa. And when you sit down, I cuddle right up to your neck and kiss you on your ears!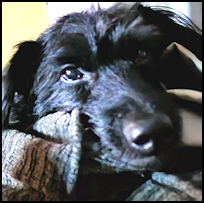 There are so many great things about me, and my foster mom says I'm been the easier foster to come in and become part of the pack!!! I'd love doggie siblings (but I don't have to have them), and a back yard to run around in. I need a schedule so that I can continue to make progress on my house training (and I'm doing SO well!). I need a loving sweet patient new mom or dad since my foster mom said, I deserve them. Even though the changes I've gone through have been hard, I still love humans, doggies, toys, and playing. I'll be happy so long as I'm with my new humans.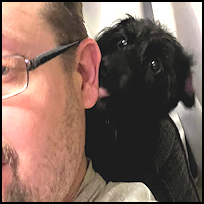 If you think you can provide a fabulous loving home for me, please go to www.schnauzerloverescue.net and ask for Bowzer in Mississippi.