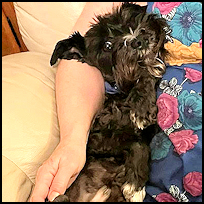 Dear future family,

Schnitzel here! I am truly as sweet as my name, so I hope you are excited to learn more about me. I am a 13 lb. male, approximately 1-year-old. I am a beautiful Mauzer (maltese/schnauzer), black with white markings on my chest, feet, and snout. I was rescued from a local animal shelter, and thank goodness I was, because now I have the chance to find my forever home
with you!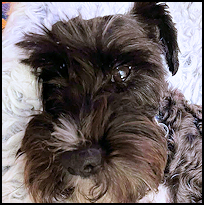 I really want doggie siblings that are young enough to play hard with me – I love spunky play, like many schnauzers! I especially love to play with toys, play fetch, and pick up sticks outside to chew. I can be mouthy when I play, so that may not be the best fit for little kid hands; I haven't been around any actual little humans yet, though. Other things to know about me? I am a very good communicator…I even bark to tell my foster mom that I am hungry. I do well in the car, prefer to sleep in my crate, and do well alone for a full work day when left in my large crate. I think I would do well in a house, apartment, or condo as long as I am monitored and leashed in unfenced areas – like many schnauzers, I love to chase small critters! If you've been dreaming about adopting a snuggler, I loveeee to snuggle. I especially love to receive loves when laying on your lap or on your chest. I return the love by giving many little kisses. My foster mom says "sweet and loving" sums me up best. I am also smart, though, if I say so myself – thanks to my foster family, I now know "come," "go to your crate," and we're working on "sit." I would love to continue to work on my training with you, especially since I am young and can learn so much! As treats, I now enjoy carrots and bananas – how cool is that! A lot of my learning I can thank my foster siblings for, as I like to watch them and do what they do. I've even learned to love grooming, baths, and toenail maintenance – my coat was so curly and wild when I came here. But now, after good food and care, my fur is so beautiful and my new cut will keep me cool in the hot summer.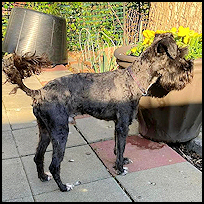 Do I sound like the perfect schnauzer for you? Whatever human decides to adopt me, you'll have to promise to love me with everything you have. I was not very loved and cherished in my previous life, so this is my second chance. My foster mom loves me so very much and wants the best for me. She has taught me to love and trust again, and I can't want to experience the same in my forever home with you. If you meet all my requirements (a fenced yard or lots of walks, a sweet, energetic, young doggie buddy to play with and humans who want to snuggle with me and have time to play and train me as I grow), please go to www.schnauzerloverescue.net .