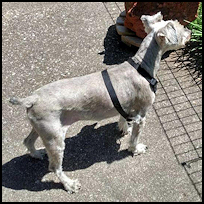 Hello SLR friends! It's Effie here to remind you that schnauzers age like fine wine…oh, and that I'm looking for my forever home. Could it be with you? I am a sweet and active, 10ish-year-old purebred miniature schnauzer. I am the most beautiful silver color, and a lovely 15 lbs. Of course, I am up-to-date on all my vaccines and spayed. I've had a dental so I have no teeth problems. In fact, I have no teeth anymore, at all. But no worries, I can eat just fine and feel
great!!!!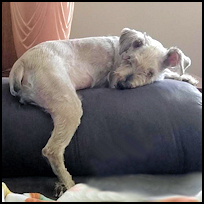 I was found wandering the streets as a stray. It's most certainly difficult to imagine such a beautiful and loving girl like me out on the streets, isn't it? I told my foster mom I very scared and hungry, all alone on the streets, but I did enjoy being in the sunshine. I LOVE to be outside. Whether you have a great fenced yard for me to romp in or a balcony or patio for me to feel the wind through my beard, I will thank you profusely. For being a senior gal, I am bundles of fun and am quite high energy! I love my walks more than anything else – I walk wonderfully on a leash with my harness and could easily walk more than a mile. I have shown some weakness in my hind legs, but it certainly doesn't affect my desire to walk. While on my walks, I have met some very nice neighborhood children who I liked very much. I think as long as the children in your life know how to be respectful of amazing schnauzers like me, I would very much like spending time with them.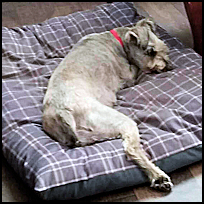 We have also seen some dog friends out on walks – I get excited when I see them from afar but get a little nervous when I'm too close. It might just be best for me to keep watching them walk by from a good distance. I think I would do best as the only dog in the home. It's the humans I really care most about, anyway. I just love being the center of attention, and very much would
look forward to being the apple of your eye. I may not be a big snuggler or like to be held, but I sure do show my love in other ways. I adore sleeping soundly next to you in bed or on the couch – I am just so happy to be safe and warm now!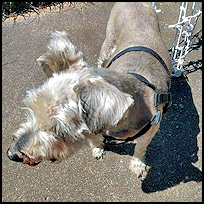 My foster mom says I am one smart and good girl because I have had no accidents in the house, I am very respectful of her things, and settle very nicely after I've gotten my energy out. My foster mom hasn't had to put me in the crate at all. I like this because I am a very alert schnauzer and enjoy watching out the windows, doing my guard duty. But I understand when my "alerts" to passing people are too loud, and quiet down my barking very nicely with a word. What matters most to me is that my forever human has time to give me exercise time. So, while a home with a yard would be the best fit for my energy level, a very active apartment or condo family would be ok, if we did lots of walk…I am not a sleepy senior. I don't care much about playing with toys, so outside time is really what I need.

Bring me home with you, and we'll age like fine wine together! I can't wait to spend many happy years with humans who love me and spending time outside as much as I do. Just to sum things up, I need a home with a human who will take me on walks and let me spend time outside, either in a fenced yard (preferred!) or a patio. I need a human who will let me sleep next to them and be with them a lot. I love being the center of attention, but I also enjoy sweet, gentle children. If you are interested in adopting me and meet my requirements, please go to www.schnauzerloverescue.net complete an application and ask for Effie in TN!