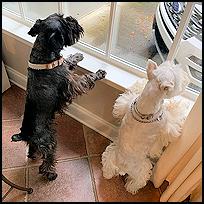 Wally and Gordon are being fostered in Marietta, Ga. Siblings don't always get along, but these 2 sweet little boys do! Gordon and Wally were surrendered to SLR so they could be better cared for, and they are the most appreciative little pups on the planet. These handsome little men are about 5 years old and partners in life. These very active little guys have learned to walk on a leash, but love running and exploring a yard. They are fully vetted, chipped, neutered and up to
date on all vaccines.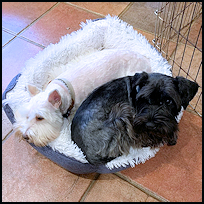 Gordon, white with a chocolate nose, has docked ears and tail, weighs about 14# and will find any available human he can to lie on. He loves men, women, children – any warm, soft lap will do. He just loves attention. On walks, he is very active, always on alert for a squirrel or bird, and he almost always loves to meet new friends. He will walk right up and start smelling them and wagging his tail. Gordon also loves his alligator – he'll carry it around in his mouth and play, but not give it up.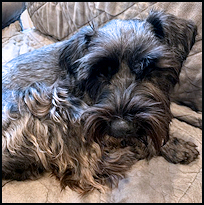 Wally, black, with lovely floppy ears, weighs about 14 pounds, and has recently had a dental. He is just as sweet tempered and curious. He also finds children very tolerable, and laps a desirable resting place. He does like to talk when he's walking and is working with his foster dad to bark less when he sees others. Wally even seems to be a little deferential to Gordon when it comes to eating. He'll often wait until Gordon is finished eating, but neither of them seems to be food motivated.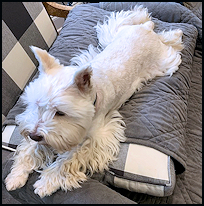 They are both housebroken, and love riding in a car, going to explore a new park, or walking somewhere. They also sleep in a crate at night – together if it is large enough - and Gordon will ring bells hung on a door if he needs to go outside. They are both spirited and full of energy and will benefit from lots of attention and exercise. If you are interested in in learning more about these 2 handsome guys being fostered in Marietta, Please fill out the application and don't forget to asked for Wally and Gordon!