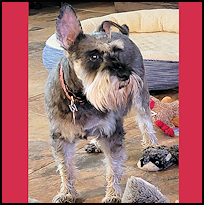 Greetings from Central FL! My name is 'Blackie.' If after reading my autobiography, you are interested in knowing more details about me, please complete an adoption application on the SLR web site and enter 'Blackie' as the handsome, lovable gentleman you would like to provide a forever home to.
The name Blackie is an English & Scottish surname. Firstly, I am not sure why I was named this as I always thought I was of German descent. Secondly, my coloring is salt & pepper! I do however, have natural ears and a docked tail.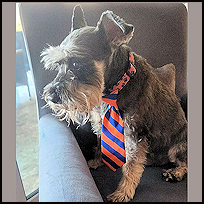 I am in a nice foster home with (2) other Schnauzers. We get along just great. I like to follow them around as I enjoy being part of the pack! I am hard of hearing but it does not bother me, or my foster friends. Make some kissing sounds for me and I will respond with a wag of my tail. Sometimes it is nice to be in your own little happy place. I really love playing with my doggie toys. The more toys the better. My foster mom says I have a pleasant personality as I am not an Alpha and I just go with the flow.


I know for some dogs, they don't enjoy being in a crate. I actually love my big crate. I feel very safe in it. My foster mom does not even close the door as I go in on my own when I want to take a nap or have a good night's sleep. I have free roam with the other in-house dogs when my foster mom leaves for a few hours. When she comes home, she always finds me in my crate snoring away.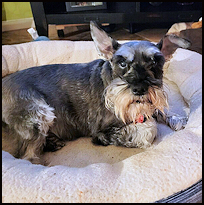 I have proper leash manners when out for my daily walks. In my prior life before being rescued by SLR, it is obvious that I had been taught to heel. I LOVE my walks in the neighborhood – so many new sites to take in and so many great fragrances. Foster mom says I am so smart and such a gentleman. The dog doctor says I am a little overweight and need to loose about 2 lbs. I am currently 19 lbs. but it would be best to weigh in at 17lbs. to keep my muscular body. Did I tell you I love to eat? The dog Dr. removed my bad teeth. I have (4) canines remaining. My gums have hardened up and I eat just fine.


Foster mom says that sometimes I have 'Schnauzertude!' I have never heard of this disease. She says I will bark when I want something (food, treat, walk or to be petted). I see nothing wrong with asking for attention. I do not bark when in the yard or on our walks so why not bark when I want some loving attention! Little humans that are at least 10 years old would be fine. I enjoy riding in a car as long as I have a seat belt on. A fenced in yard would be great for me to soak in the sunshine and be able to smell the orange blossoms but I also REALLY enjoy my walks in the neighborhood.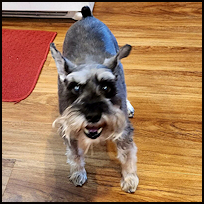 Can you keep a secret? My 11th birthday is February 15th. When anyone hears my age, they cannot believe it, as I am such a playful, lovable and happy middle-aged boy. My zodiac sign is Aquarius. I am hoping that I get more than a bowl of water on my special day.


**A loving forever home would be my ultimate birthday wish!**