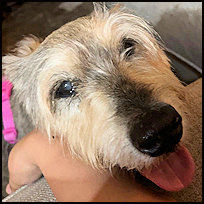 Meet Bailey. She is being fostered in the Florida Panhandle, and is estimated at 10 years old. She weighs about 31 lbs. Her foster mom says she is the sweetest senior lady you will ever meet.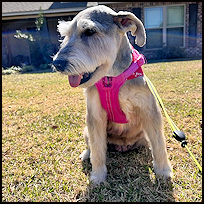 She loves to be around someone to keep her company through the day and enjoys going on evening walks around the neighborhood. Can you believe foster dad and daughter are the only ones that have heard Bailey bark? By the waym foster mom is kinda jealous, but that tells you how gentle and peaceful Bailey is. She doesn't pay attention to toys, but enjoys getting petted and napping next to you as you watch TV or work from home.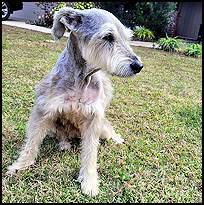 Bailey can't hear very well anymore but she still has some sound sensitivity and follows commands if you pat your leg or give her visual commands along with voice commands. She follows foster sister Kona when she sees her get up and notices something is going on but doesn't always join as she would rather nap instead. She has age related cataracts starting but still sees well enough to get around the house and yard on her own. She gets really happy when her foster hooman brother and sisters get home from school and greets them at the door. She knows it's time for treats when she sees the big red box from Aldis full of goodies, But no veggies for her please. Foster mom says they are good for you but Bailey doesn't care to try them. She gets extra extra excited to see foster dad because he is in charge of evening walks and dinner. I mean who doesn't get excited to eat and go on a walk? Bailey is an expert in leash walking, she stays right beside you the entire time patiently waiting if you stop for a break. Foster mom says she wishes foster sister Kona would do the same.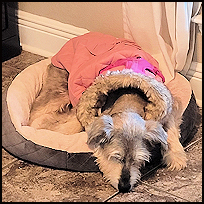 At night Bailey loves to sleep on her own bed or floor in the master bedroom, or anyone's room as long as she's not alone. She doesn't like the kennel very much and prefers to be in an open space. Don't worry, Bailey has never chewed on anything in the house.

Foster mom sometimes uses a diaper when she leaves to work for the day, just in case. I mean who doesn't pee when they sneeze or get startled sometimes!? She also takes medicine to help avoid accidents and is doing great!! As a matter a fact, Bailey will start walking around and pant if she needs to go potty. She will even cue and wait by the door so she can go outside and take care of business. A routine is best for Bailey and staying consistent with lots of potty breaks throughout the day and no water after 7:30 pm at night.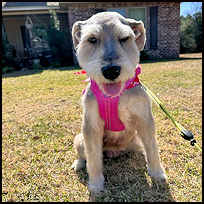 Bailey is looking for a home where her person is home for most of the day. She would really love to have a fenced yard too. If you stay at home most of the day, and think you would like to have a gentle, sweet and quiet companion during the day, Bailey is your girl. She is ready to continue growing older with someone next to her, so please fill out an application and ask for Bailey.