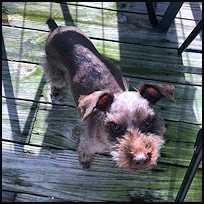 Shadow is a handsome 12 lb 10 year old chocolate mini schnauzer with AKC papers. He is being fostered in north Georgia. His owners felt it was best for him to be in a home where small children wouldn't be chasing him around so they asked SLR to help find a great home for him.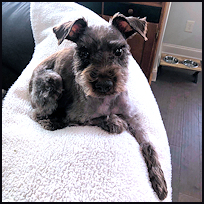 He just got a groom with a schnauzer cut but still needs his beard and furnishings to grow out since he had been getting a puppy cut. Shadow is leash trained, housetrained and crate trained. He loves to ride in cars and chow down on his food and treats. He is fully vetted and recently had a dental.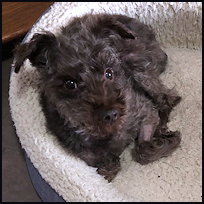 He is used to having a fenced in yard and another dog. He gets along fine with his foster parents' Schnauzers. He does well if walked and would be good with or without canine fur pals. He will not be adopted to a home with young children living there or young visiting children. He did have some food guarding issues when outdoor cats were allowed to come inside at his previous home.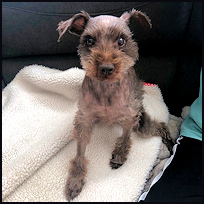 Shadow is well named since he wants to be close to his humans. He will go in a crate but he isn't too happy about it since he was allowed to be free at his previous home. He is happy to sleep in his bed with a blankie at night. As you can see from the photo his favorite perch is up on the couch during the day. He is a very sweet lively fur boy.


If you think he might be the Schnauzer boy you are looking for, please fill out an application and ask for Shadow.