Foster Gus Tells SLR What He's Looking For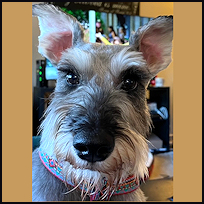 SLR: Hi, Gus. I am told you've just started looking for your furever home. Let's talk about what you're looking for.

GUS: Yup; I'm ready. I don't want to start this interview on a downer, but I really loved my first home. Things got bumpy when my humans brought home their little human critter. I thought it was cute and all, but it was stinky and cried. Like. All. The. Time. He made me nervous, and they decided I needed to go to SLR since little human critters just aren't my thing. It made us all very sad. I still miss those humans, but l super love my foster home. There are schnauzers here, foster mom cuddles me and plays – and these schnauzers are pawsome buddies!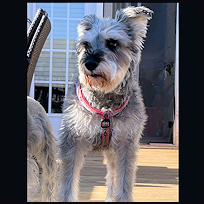 SLR: Right. We have established that your new home shouldn't have small children since they cry, move unpredictably and are stinky. And just to get this out of the way, your records say you are handsome, 6 years old, neutered, up-to-date on your vaccines, have the good potty manners, and that you like other dogs and humans if you are introduced slowly. So, Gus, what else do you want the lovely schnauzer-loving humans to know about you?

GUS: First, let's go back to the handsome part. That really doesn't express how super fine-looking I am, as you can see from my glamor shots. Plus, I'm kinda big for a mini schnauzer – 26 lbs., and I'm very muscular and strong. And I'm spirited and persistent. I have a very schnauz-excitable nature. You know what I mean? When I meet new dogs and people, I'd appreciate a calm approach. Otherwise, I get way too enthusiastic, and then I have to go calm down. I hate missing the action. Now, don't get things wrong – I am a very, very good boy. I listen well, and know how to obey. But there's my passionate nature.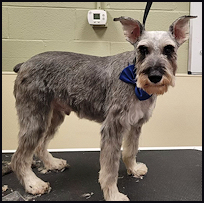 SLR: So, I think what I hear you saying, Gus, is that you need a new human who knows how to work with a determined schnauzer. And one who can handle 26 handsome pounds of excitement. I see in the notes that you're not a big fan of a leash, yet. But that you are learning. And that you especially love to run around a fenced backyard sniffing and playing. It appears that you have lots of energy, so exercise is important to you.

GUS: Ugh, yes – the leash! But if you put it on my harness, I like it ok. And I need more exposure to the outside world so I can learn that dogs walking my way on a leash are not a threat. So might I suggest we do some training. I so love to be the center of attention and I am SO smart. It would be a win-win for us all. And a lil' buddy playmate -I want a doggie who can be my best friend. Another important note - if you're going to pick me up, give me a warning. You can pick me up, but let me know what's happening. Otherwise, my distraught meter shoots up.

Now, I'm going to tell you this next stuff – not cause I want to, but because I want my new humans to know. I'm sensitive and I long for human attention and interaction. So I want humans who will really love me and play and cuddle with me. Also, I have a little bit of anxiety and I want to guard my stuff when I'm in a new situation. But once I know I'm safe and I trust my lil' doggie buddy and my humans, I can relax. I mean, I'm still a proud, handsome guy. So, you don't have to tell everyone all that.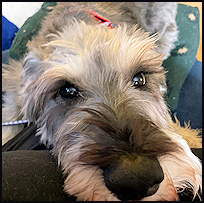 SLR: I get that, Gus. We'll only share that with humans when we are looking for your perfect forever home. On a related subject, I am told you are so sweet, loving and cuddly. Let's make sure everyone knows that.

GUS: Yes, I admit. I am a lover-boy. Cuddle me and I'll follow you anywhere.

SLR: In closing, let's tell the humans reading this, that you need a quiet home with a human who has lots of energy and is experienced working with a schnauzer with anxiety and guarding. You also need a doggie lil' buddy to love. You need a fenced backyard and consistent play and exercise. You need a human who loves to cuddle with you and will enjoy helping you become your best. Last note to the humans: if you meet all of Gus's needs and requirements, please go to www.schnauzerloverescue.net and apply and ask for Gus in Tennessee.