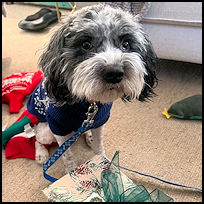 SLR: Oh gosh. We caught Patches posting on some social media sites. He's said he's tired of waiting on us humans to find his furever home, and just went for it. I have to say, his post was really good, but his placement was bad. We don't really think his furever home can be found on Tinder - OMG. So, here is Patch's fabulous post and plea for a forever home.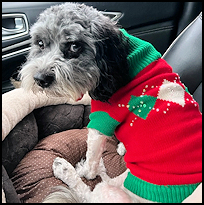 "I'm a young (2 years old) dude (schnauzer/poodle/spaniel mix – no judgment, ok?) and have been told I am fine, fine super fine. I love to have a good time and am looking only for serious furever relationships - with humans and even other canines. I'm a foodie since I've had a starving, rough street life. But that's all in my past, and now I love to be inside, so lounging around in front of the fireplace or TV with you is great, as long as we have some party play time (Squeaky Toys!). I enjoy romantic walks along the beach, or actually, in your neighborhood. I'm good with my neat little condo (crate) and sleep there. But I'm over the single life, and I really want to sleep in your bed with you.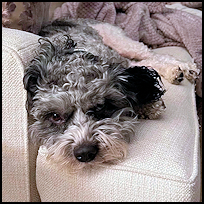 You'll see - I'm the most snuggly. I'm a long, svelte 19 lbs. with mad, cute and cuddly skills. So, if you have visitors over, I'll be your social chair-pup. I'm a people-pleaser, so I want everyone to be happy; you see, I'm a sensitive fella. I haven't really been around small humans, but the thought makes me nervous. I am not sure about felines, though, so, willing to discuss. I'm good with the vet man/lady and at the booty parlor, where I get my handsome hairdo; plus rides in the car are cool. I'm not one of those loud mouthy dudes; I'm pretty quiet, so an apartment or condo sounds pawsome. I'm waiting. Call, me, K? You'll be glad you did."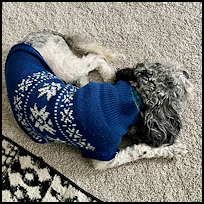 SLR: In closing, Patches is neutered, up-to-date on all vaccinations. His only work in progress, is that he sometimes forgets and lifts his leg inside. He wears fancy pants in the house to help remind him and protect the furniture. But he's improving every day!!! He just needs some time and patience.