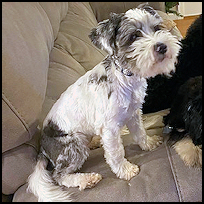 If you've never met Brea, and see her tearing across her fenced backyard like lightning, your mind would register how fast and joyful she is. When she's tossing a squeaky toy up in the air to play with, you'd marvel at how much fun a tiny puppy can have all by herself. And if you watched her jump like a baby goat and annoyingly bump into her schnauzer foster siblings, you'd think this puppy has some things to learn about play etiquette. She makes a lot of noise like any schnauzer, and she always has the biggest personality in the room.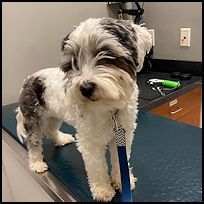 She is much loved by everyone who meets her, except one of her foster brothers, who finds her not-so-delightfully exasperating. She's a bigger-than-life 10-pound package of schnauzer puppy, and she's been blind from birth. There is no treatment or cure for her lack of sight. She could care less because she doesn't know other dogs can see and loves life, just as it is for her.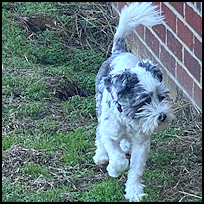 Her foster mom says it has been amazing watching Brea navigate the world. She quickly mapped out her environment when she arrived, learning where the walls, bushes, and furniture are. Sure, she has bounced off a few things at first, but her puppy head is pretty hard. She does a little cartoon-like head shake, where the world might spin a bit in her head. Then she jumps up, and goes back to exploring and running and being happy. And, gosh, is she happy. She loves the grass like it's the most wonderful thing in the world. She plays with a toy as if it is the coolest toy ever.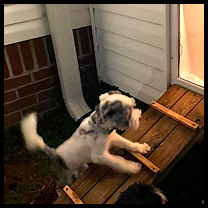 Brea loves to cuddle and be held. She'd love a patient and chill doggie sibling who doesn't mind that she will accidently bounce on his face when she intends just to jump up and play. But another dog isn't an absolute necessity, if she gets lots of time with her humans. Brea would love to have older kids around – say 12+. She needs a forever home where her humans will appreciate that she isn't just a blind puppy. Instead, they will see a brilliant, silly, playful, gorgeous puppy with a wonderful, sweet, loving personality.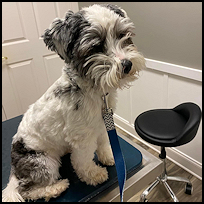 Like most puppies, she mouths with sharp teeth; she responds well to chew toys that replace the human hand, and she will need continued training in that area. She is a very busy car-rider and does best when she's harnessed in with a chew toy or toys to keep her busy. She needs a fenced backyard and is not meant for apartment life, with her loud bark.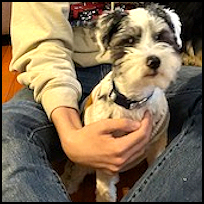 Brea is about a year old, eats prescription dog food, is house-trained, crate-trained, spayed, up-to-date on her vaccinations, and ready for a fun, loving home with someone at home with her and a possible patient doggie sibling that will play with her and teach her more about being the fabulous schnauzer she is meant to be. If you meet all of Brea's requirements, please go to www.schnauzerloverescue.net to apply, and ask for Brea in Tennessee!