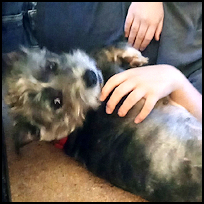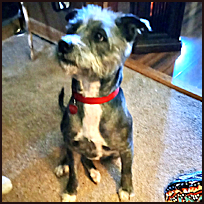 Hi, schnauzer lovers; I'm Donner! I'm a sweet 35 lb. schnauzer mix and proud of it! Don't ask what I'm mixed with because, honestly, who knows??!!! I was liberated (I know some big words cause I'm so smart) from Memphis Animal Services by those pretty, sweet-talking rescue ladies. Although I was shaky and scared, and hid under the bench in the vet's office, I knew right away these humans were going to help me. I know I sure didn't smell good, but they coaxed me out from under the bench and were kind and gentle. They even gave me rubs behind my ears and patted my back. I had been wandering the streets, I was skinny and my skin and teeth were just a mess. After I saw the vet, I traveled with some more sweet SLR folks across the state of Tennessee to reach a foster home where I wouldn't chase the silly cats. It took me a few days to settle, but now I'm the happiest fella, as you can see from my pix. I love the other dogs, and I absolutely adore kids. I play with them, and roll around to hear them giggle; I'm their favorite, I have surmised.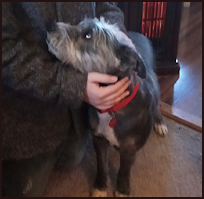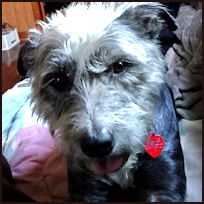 I am about 7 years old, and have been shaved except for my schnauzer face. I hope to grow out my fur so I can have a better schnauzer cut on my awesome body. Looking forward to that. I am also neutered (it was mandatory), up-to-date on my vaccines, etc. I am now waiting to get my dental done, so my choppers can be all shiny and healthy – then I'll be ready for my forever home. I like to chew on doggie toys (haha) and I'd love to have a doggie playmate, but I can be your only doggie, if you'll play with me.

I walk on a leash like a show dog, because I'm so proud these days. I'm house trained (of course), and I enjoy car rides. I would love a fenced backyard to run around and sniff. But I love walks too, so if there's no fenced yard, I'd be happy if you take me on regular walks. I'm crate trained and love life: I'm just happy to be here! And I'd be even happier when I get my new forever home. I might be nervous or scared at first, so I'll need some patience. After all, I am a true rescue schnauzer, and I've got some mystery history. But I'm sweet and I love to cuddle - I'm excited for a new forever home. So, if you meet all my requirements, please go to SchnauzerLoveRescue.net and ask for Donner in Tennessee. I'll be waiting.