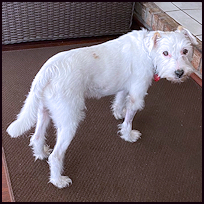 Elmo is 12 years young. He is being fostered in FL. If after reading his biography, you are interested in knowing more details about him, please complete an adoption application on the SLR web site and enter 'Elmo' as the sweet boy you would like to provide a forever home to.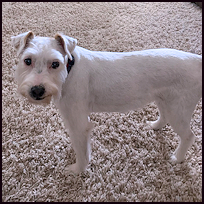 Elmo is a handsome white Schnauzer mix with a few small tan spots that does shed a little. He weighs 17#, has natural ears and tail. He recently had a dental and his remaining teeth are winter white. He is a healthy boy. Elmo is house trained. When put in his crate, he will lie down and stare at you, wondering why he is in this little house. Elmo loves his walking time in the neighborhood, and takes his time to stop and smell the roses!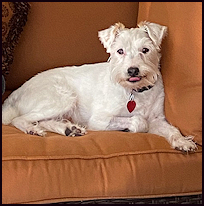 Elmo is an Alpha and needs to be an only dog. The name Elmo is a boy's name of Italian origin, meaning 'protector.' He loves his
foster parents and is protective of them. Children (and their friends) may be too much for him. No felines for Elmo. He is an excellent car rider and enjoys when he gets to take a ride (even if it is to the vet or groomer).

Elmo loves the fenced-in backyard at his foster's home but it is not mandatory. He loves to lie in the sun, so as long as he can find a sunny spot in his forever home where he can take in the warmth, he will be just fine.



If you feel you can meet all of Elmo's needs,
* Only Dog
* Adult Home only
* Willing to give lots of love and attention to, please go to our web site and enter 'Elmo'
as the sweet dog you would like to provide a loving, forever home to.