Dear Santa,


My name is Poppy, and I am in a foster home in north Georgia and I know Christmas is coming soon. My Foster Mom says I should write you to see if you can help me with my wish. You see, as much as I love my foster family, I really want my own family for Christmas.


Foster Mom says I'm a really good girl and just need a little help finding the perfect home for me.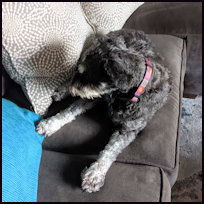 I'm an 11-year young female Miniature Schnauzer. Don't let the miniature fool you, I have a huge heart and I'm a bigger girl, about 32 lbs. I'm a special needs girl as I am blind. Otherwise, I'm up to date on all my shots and spayed.

It doesn't slow me down! I have been blind for quite some time and get along just great. I can use a doggie door at my foster home and take myself out for walks in the yard and potty breaks. I can navigate stairs and I even love finding the perfect napping spot on the couch.

I get a long just fine with my foster brothers and sisters. I'm a very chill girl and enjoy naps and long walks. I don't mind car rides either.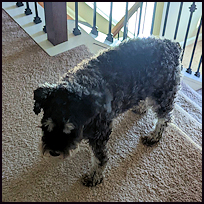 I haven't been tested with cats but I don't mind children. I'm not super snuggly and would rather just chill in my favorite nap spot.


Foster Mom says I'm rather unique in that I'm very quiet. I don't bark! And I mean I don't bark at all. Even though my foster siblings bark at everything. I have not learned that habit.


My perfect family would be one that understands that I'm a quiet low-key girl. They need to be patient and give me time to learn the house and then I will do just fine! I'm perfectly happy taking a nap on the couch or on a blanket on the floor. I love to help with laundry so if you leave a laundry basket out you may find me happily snuggled on top.


Foster Mom says to remind you that if you know a good family, please have them fill out an adoption application and mention me, Poppy.


Here's hoping my wish comes true!