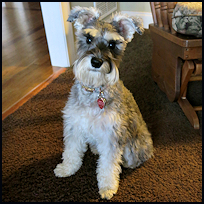 Sophie Marie, or Sophie for short, is an 11 month old salt and pepper colored female. She has natural ears, a docked tail, is spayed, up to date on vaccines and weighs 19 lbs. She is being fostered in Buford, GA.
Still being a puppy means Sophie is very energetic. She absolutely loves to play with other dogs and she plays hard and long. She is at times relentless in her playtime so she would love to have a not so old playmate that is very playful and can handle a little roughness. In fact the reason Sophie was turned in was because her older fur sibling had a flare up with back issues, had to have surgery and was no longer able to keep up with Sophie and her rough play. Her family loved her very much but they were having to keep her and her sibling separated and didn't feel that was fair to either one of them.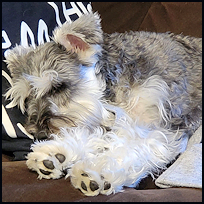 Sophie loves her toys, to the point of their deaths sometimes. She loves on her toys so much that the stuffing comes out, so heavy duty toys are her best friends. She loves to bring her ball or stuffed toy, drop it in your lap for you to throw, then bring it back to your lap again and again, and she will do this, as the saying goes, until the cows come home (basically forever).
Being a puppy also means she is very curious and mischievous. You'll have to puppy proof your home. Anything left on the floor or on the edge of a table is fair game and considered a toy or an edible. She is just tall enough to stand on the edge of a table and look around but will get down when told to do so.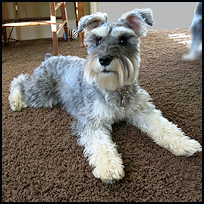 Sophie loves to give kisses and sit next to you or on your lap. She is a little shy at first, barks at strangers and dogs, but warms up quickly once she gets to know you. She knows several words…sit, no, down with finger pointed to get down off of something, stick for anything stick shaped, outside, potty, and cross over when walking and crossing the street.
Sophie loves the outdoors. She asks to go outside a lot more than just for potty breaks. And she loves to go on walks. We're working on trying to get her more used to being on a leash. She pulls quite a bit so walking her with a harness is a must.
Sophie will do best with someone who's willing to give her a lot of exercise either with long walks and/or throwing a ball or with a furry sibling who likes to play long and hard. Being as energetic as she is means that a fenced yard is a must for her. She would also do best with someone willing to do some training with her, especially for leash walking, and to get her more used to other people and dogs without all the barking. She will also do best in a house, not in an apartment or condo, since she does like to bark and we think she will do best in a house without young children.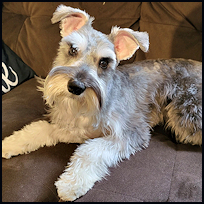 Sophie is fully housebroken and will go to the door when she needs to go out. She is crate trained and that is where she sleeps at night and when she's left alone in the house, so that she doesn't get into any puppy trouble. She does seem to be a little itchy so she may have allergies and you may have to buy special food or special shampoo for bathes.
So if you are ready for a full blast of puppy energy, have a lot of patience, willing to do extra training (training classes would be great), willing to exercise her a lot, have a fenced yard, do not have an older dog that she will annoy with her playful puppy antics and you think you would be the perfect home for her then please fill out an adoption application and ask for Sophie Marie!!!