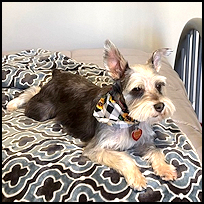 Idgie and Smokey are an adorable bonded pair being fostered north of Atlanta. They came to SLR when their owner could no longer take care of them. Idgie is an 8 year old female, who weighs about 11 lbs. She is liver parti in color. Idgie is the dominant dog of this pair. Smokey is a 5 year old silver male. He weighs about 12 lbs. He will be ready to celebrate his birthday the end of December so will be hoping his new family will have a party for him.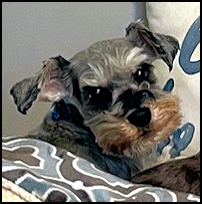 Both dogs are very loving and love to snuggle in your lap. As is often the case with Schnauzers, Smokey will be quick to bond with his person. Idgie also loves to be held. Both dogs are good with other dogs. They are not good with cats, and we do not think they will do well with children. They are both leash and housetrained. They are hoping they will get to sleep on the bed in their new home, but probably would be fine on a dog bed. They stay together almost all of the time. They are barkers, but his foster Mom is working on that. She does not think they were socialized much in their original home, but they've done well with meeting neighbors at their foster home. Idgie has a bit of food aggression, which can easily be solved by feeding a separate room or in a crate.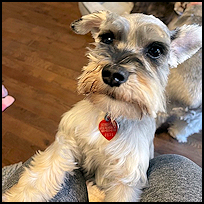 They love running around in the fenced back yard at their foster home, so a fenced yard is a strong preference. If you thing this cute pair could be for you, please fill out an application, and ask for Idgie and Smokey in north Georgia. They would love to be in their forever home for Christmas!