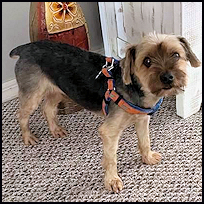 Murphy is approximately 11 years young. He is being fostered in FL. If after reading his biography, you are interested in knowing more details about him, please complete an adoption application on the SLR web site and enter 'Murphy' as the sweet natured dog you would like to provide a forever home to.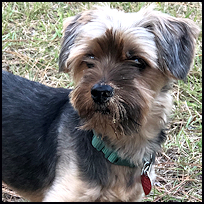 Murphy is light brown and black. He weighs 15 lbs., has natural ears and a docked tail. Of course he is neutered and current on all vaccinations. He only had (3) teeth extracted during his dental. He is a healthy boy. Murphy is a mix. The vet feels he is a Miniature Schnauzer/Yorkshire Terrier mix. Murphy does not shed.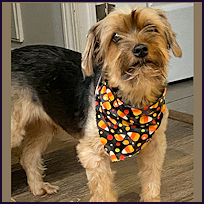 Murphy was turned into SLR, as he was being bullied by the big dogs in the home. He was quite the escape artist. Murphy was able to escape several times from his electric fenced in yard by pulling off his collar. Perhaps they should have named him Houdini! He has never tried to escape at his foster's home. Murphy has learned what love is and how it feels to be in a safe environment and taken care of.


Murphy needs an adult only home and no felines for him. He is fine as an only dog or one small dog as long as that dog is not an Alpha. Murphy is not an Alpha. He is crate, leash and house trained. He rides fine in a car and is not a big barker.


When Murphy first arrived at his foster's home, he was anxious at times – seemed fearful of the unknown, especially at nighttime. He also would cower at times thinking he was going to be hit. The first week he hid under the foster's bed at night. After his very experienced foster worked with Murphy, he is now more comfortable when going outside in the dark. He enjoys his treat when he goes out and enjoys another treat when he comes in for bedtime. He does enjoy going into the master closet at times but he is so much less fearful than when he first arrived.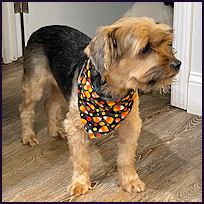 Murphy's dream home is simple –
* A patient adult home only who gives treats
* Only dog or one other small, non-Alpha dog


If you feel you can meet all of Murphy's needs, please go to our web site and enter 'Murphy' as the shy dog you would like to provide a loving, forever home to.