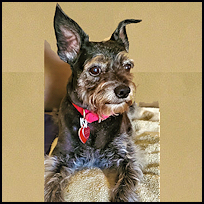 'Queen Katie' is 10.5 years young. She is being fostered in FL. If after reading her biography, you are interested in knowing more details about her, please complete an adoption application on the SLR web site and enter 'Katie' as the sweet dog you would like to provide a forever home to.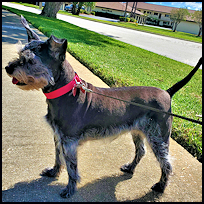 Katie is salt & pepper and weighs 17 lbs. She has a natural tail and ears, is spayed and current on all vaccinations. She is a healthy girl. Katie is a mix – sheds very little. Katie is referred to as the 'Queen' as she can be stubborn at times. She is smart. She knows how to tell time. She will let you know when it is time to eat or to go for a walk. She has her routine down. Katie is house trained and leash trained. She does not need a crate. At home, she is very calm, obedient and playful. She plays with her squeaky toys – not destructive at all.


Katie was attacked in her past by another dog. It is felt that is why she will bark at other dogs when out for a walk. She stays close to her foster mom as that is her comfort zone. She will cringe and back away when first trying to pet her. A sudden noise will make her flinch (dropping something) but does not respond to thunder or a howling wind.


Katie may bark or whine the first few days when left alone in her forever home. Once she realizes you always come back, she is fine. She is given (3) small treats when the foster leaves and she runs right upstairs to enjoy them. Katie also enjoys riding in a car.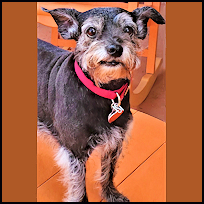 Queen Katie needs to be an only dog with a fenced yard, one person in the household to spoil her – preferably someone who is retired or works from home.


If you feel you can meet all of Katie's needs, please go to our web site and complete an adoption application and enter 'Queen Katie' as the sweet dog you would like to provide a loving, forever home to.