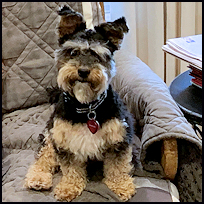 Bella is a cute little 10-pound yorkie/poodle, approximately 2 years old, with lots of energy who loves to play! She is being fostered in Marietta, GA. She's extremely agile and will jump to chase a toy – squeaky toys are her favorite! She and her much larger current friend run, play and rough house together, fighting for toys.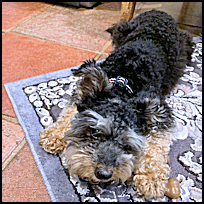 She will sit for a cookie, and if she attaches to you, she loves to be held and sit on your lap. She has natural ears and a fluffy tail, is spayed and current on all vaccinations. She is house, crate, and leash trained. She likes to meet other dogs on walks and will gladly go on frequent walks to explore everything when she is outside.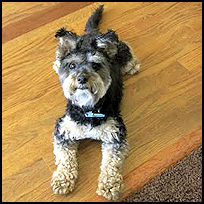 She, like all shelter rescues, has an unknown history that seems to indicate 2 things about her - she has had some bad experiences with men, and she has had some very hungry times. She can be very fearful of any man trying to approach her, even if they are gentle. She favors and trusts women much more easily.Therefore she needs a home with a female owner or owners. Food seems to be her major motivator. If fact if she ever gets really upset, it's because someone has tried to take her food.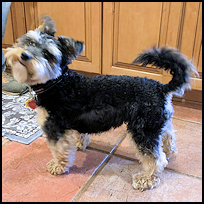 She has made good progress with her dad since she arrived, and if he is seated on a sofa, or comfy chair, she will jump up for cuddles and she loves tummy rubs – but that comfort level ends when any male is approaching or standing around her. She will bark when anyone approaches her, but she has also been around children, and when they provided her with treats, she was comfortable with them.

She is crate trained and at night after her final walk, she'll head for the cozy protection of her bed. If you are interested in this little dynamo, please fill out an application and ask for Bella in Marietta.