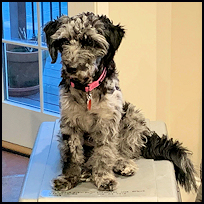 Milly is a happy go-lucky Aussie/doodle mix who loves to play more than anything else in the world! She is being fostered in Marietta, Georgia. She is regarded by the vet to be a youngster at approximately 10-11 months. As a rescue, she appeared at a local shelter with a wound under her neck which has been sutured and healed and it is history for her. She is up to date on her vaccinations, spayed, and is leash and crate trained.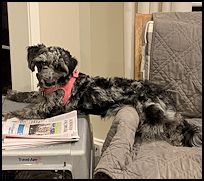 She is a great walker and companion and never misses anything new on her walk. She can easily walk a couple of miles and is a real athlete! She loves playing so she really needs a fenced yard – and an involved family, or children to throw balls to fetch – which she can do! If you already have a dog, she would love a playmate! She is friendly meeting people on a walk and other dogs, including children. Her big happy tail is always wagging.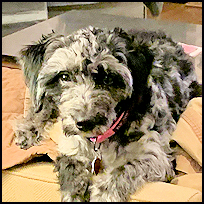 She's about 22 pounds but will affectionately lay across any human she can get close to. Since she is very young, she may not have finished growing and may end up being larger than her current 22 lbs.She currently lives with a much smaller friend and plays enthusiastically with her, but chew bones are her favorite indoor pastime. She sits for cookies and is currently crate trained but loves to explore the house where her people live. Milly is also housetrained and leash trained.


If you are interested in getting to know this active young lady, please fill out an application and ask for Milly. Please keep in mind, she needs a good size fenced back yard, and also someone who will throw a ball for her or take her for long walks. Fence for the back yard should be 5 ft. or higher. This girl is a counter surfer and we are not certain if she try to go over a shorter fence. The key to success with Milly will be making sure she gets enough exercise.