Sweet Cupcake is only 7 years old. She is being fostered in FL. If after reading her biography, you are interested in knowing more details about her, please complete an adoption application on the SLR web site and enter 'Cupcake' as the adorable, sweet dog you would like to provide a forever home to.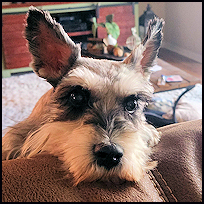 Cupcake is salt & pepper and weighs 15 lbs. She has a natural tail and ears, is spayed and current on all vaccinations. She is a very healthy girl. Cupcake is blind in her right eye. It is felt that she can see shadows out of her left eye as she enjoys chasing lizards and often times will catch them! A one story home is a must and definitely no pool. She is fine going down one step onto the patio at her foster home.


Cupcake loves the company of the 2 resident Schnauzers and follows them wherever they go. She loves to lie beside them and will seek them out to be close to them. She is very, very smart as she picked up on her various routes in the foster house very quickly. She has learned which door to stand at in order to be let outside. In order to keep Cupcake on track with her house training, she must be on a regular schedule that is adhered to.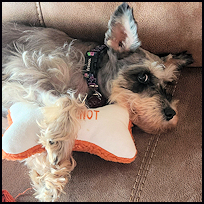 Cupcake loves playing with toys. She must have a fenced in backyard as she enjoys laying in the warm sunshine. She is very comfortable in the backyard and knows her route. She comes to you when you call her (and loves the piece of cheese she gets as a reward). Cupcake does not want to be walked on a leash. It is felt that she is scared of the unknown whereas she knows the route in her backyard.


Cupcake would be okay with older children (10+) who would understand her vision issues. She has not been around a cat. Cupcake is the epitome of a 'couch potato.' She wants to be near you or in your lap while you pet her. She also enjoys a friendly game of tug-of-war while on the couch with you (she usually wins)! She gives sweet butterfly kisses once she is familiar with you.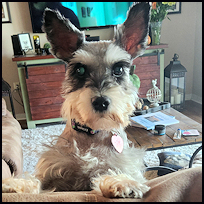 If you feel you can meet all of Cupcake's needs –
* Fenced-In backyard
* One story home
* No Pool
* At least one other non-Alpha dog as a companion
* Enjoy having a precious pup in your lap to pet


please go to our web site and complete an adoption application and enter 'Cupcake' as the sweet dog you would like to provide a loving, forever home to. 'Happiness is only a Cupcake away!