Daisy is a sweet, lovely 11-year-old senior Southern lady. But she's no Diva; she is just happy hanging out around the family and absolutely adores being outside. She came to SLR from a shelter and was heartworm positive, but her treatment is behind her now and she's bounced back with a little spring in her step. She's even been playing with her foster siblings, lately.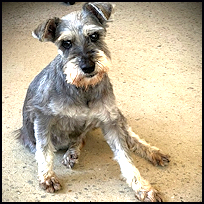 She barks at new dogs, but when she gets to know them, she's fine. She's an experienced camper, going on adventures with her foster family. But watch her at the camper door; she'll make a dash for it! She's learned to use the doggie door at her foster home, which she loves, since she's an outdoor girlie at heart. Her foster mom says she is not only super sweet, but the lowest maintenance foster doggie she's ever had. She likes to be pet but isn't a big cuddler. So, you'll be petting her on Miss Daisy's terms. Hahaha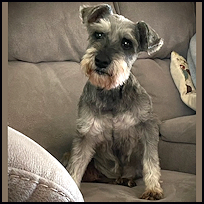 Daisy would love a low-key home, and a fenced yard is a must since she loves to be outside. She'd prefer a home with someone home a lot to let her outside and back in. She likes everyone in her foster family, and she's fine with older kids – say 12 and up. She's a beautiful silver, and house-trained, does well on a leash and is crate-trained. Her crate is her safe, quiet place and she likes to sleep in it. She's a small 15 lbs. and is spayed, up-to-date on all her vaccinations and is healthy. Her only medication is one she takes daily with peanut butter (yum) for nighttime leaking in her crate. She's doing great on it. She's just looking for her loving forever home. The more time y'all spend outside, the happier Daisy will be. If you'd like to become Daisy's forever home, please apply and ask for Daisy in Tennessee.