Hi, I am Kenzy, a just turned 7 year old mini schnauzer female with natural ears and a natural tail weighing in at 22lbs. I am spayed and current on my shots and on preventatives.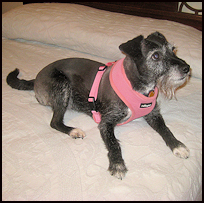 My owner said he did not have time for me and turned me and my pal, a Pom, into the shelter. The Pom got adopted right away. I don't understand being left like that, but was happy to have only spent 3 days in the shelter before SLR came and bailed me out.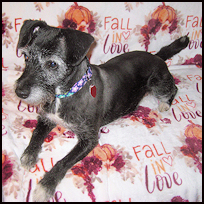 I am the sweetest girl and very good natured. My foster mom brought me home and popped me up on the grooming table first thing, and I was so good for her. I am a little embarrassed because my beard needs to grow in a bit, but the good thing is I do not shed. I am good on leash with a strong hand, and I take care of business right away. I love people but other animals and small critters are not to my liking. Maybe with some training I could get better because I am smart and eager to please.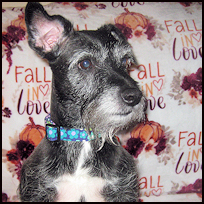 I am very well behaved. I am house trained and crate trained and good in the car too. I listen and obey commands like "come" and "back". I do not bark without reason, but can deliver a shrill squeal when excited. I love being pet and I love being in your lap.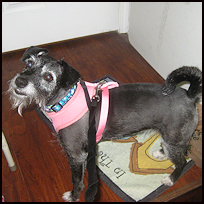 I could go to a home with older kids or to a couple or a single adult but I would not be thrilled about being left for long periods of time. My new home could have a fenced yard or I could be taken out on leash. My teeth are good and I am in good health too. I just need someone or some people to take me in and love me. I promise to love them back.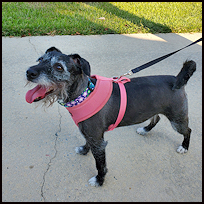 If you think you could be a match for Kenzy, please fill out an application and put Kenzy's name as the dog you are interested in. Once you have done that, you may contact her foster mom, Mims, for more information at hunelam@gmail,com