Meet Brittany and Ginger. They are a darling mini schnauzer pair being fostered in Alabama, and looking for a forever home together.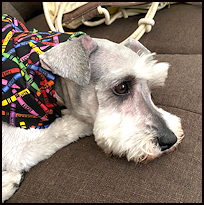 Brittany is a 10 year old female who is salt and pepper. She has had all her shots and is spayed and microchipped. She weighs 14 pounds. She loves belly rubs and cuddles. She sleeps in bed with us. She does have a little arthritis and does best if she gets a baby aspirin twice a day. BritBrit aka little bit or roadrunner is great in the car and around other dogs. She is an escape artist, and believe me she can run so she really needs a home with a securely fenced yard. Brit is house trained and will go to the door when she wants out.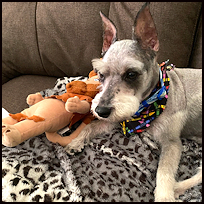 Ginger is 6 1/2 and, like her sister, she's been spayed and microchipped and up to date on all shots. She is a talker but not a big barker. She craves attention and protects Brittany and they are constantly together. She weighs about 24 pounds. She is house trained as well and will plaster herself next to you in bed.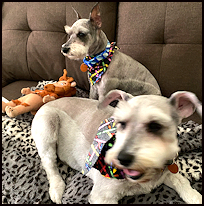 Both girls sleep all night and would love to sleep with their owner if possible. They love treats and eat well and they play with toys, They are leash trained and ride well in the car. Since their original owner passed away and they were separated in the shelter they do carry on when I leave. They do calm down quickly and go crazy when I come back to the house. They are both terribly loveable and will melt your heart in no time. If you have room in your heart and your home for these two sweet girls, please fill out an application and ask for Brittany and Ginger. They will be waiting for you.