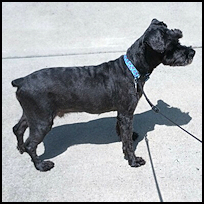 Hey all you schnauzer rescue shoppers- check me out - I am Spanky. I do not want to brag but I am told I am quite a handsome fellow with a black coat, natural ears and a docked tail. I am on the small side at just 16 pounds. I am also neutered and current on my shots and on the heart worm preventative stuff. I am currently living with my foster mom here near the coast in South Carolina.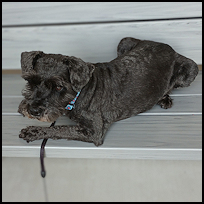 Let me tell you a little about myself. My owner passed away and I needed a new place to live so the good folks at SLR took me in and found me a temporary home with my foster mom. I really like it here because my owner was also a woman so I fit right in. I am house trained and leash trained and crate trained (though not keen on being locked inside) and I am barked trained. Actually barking came second nature to me like with most schnauzers. I will be a great guard dog and let you know the minute someone is coming close.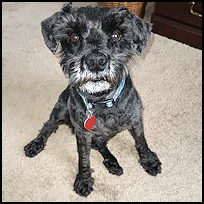 I am really a happy fellow but I like lots of pets and some lap time, if you don't mind. Someone said I am okay with other dogs once properly introduced and if they are not pushy, but I am not really good with cats. I have not had time with kids either so, at 11, an adult home would be best. I still have plently of get up and go though I do not play with toys much. I can be leash walked just fine or a fence yard would also work. I might bark when you leave - how dare you leave!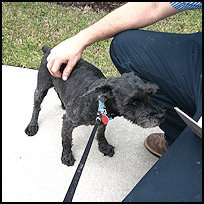 I can take a little time to warm up to people but I am basically a friendly guy - if you are, Did you see my picture with the repair man? He took time out to pet me so that is an A+ in my book.. Usually I am a little shy and can be reactive at first but once you are my friend I might whine a bit so you will have pity and pet me - a guy has got to have his attention, don't you know. I would prefer a home near the Myrtle Beach area with a nicel lady because I miss the one on one relationship I had with my mom.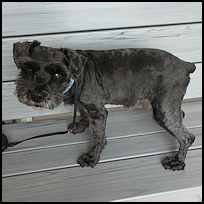 Health wise I am pretty good for my age but am getting some light cloudiness in my eyes and they tell me I have a very slight heart murmer but not anything requiring medication. I am a good eater and I take care of business pretty quickly when taken out, Well of course- why spend time outside when you can come in and be loved on. That is about all for now, but I sure hope someone nice sees this and finds it hard to live without me. I am waiting to bring you lots of love.- Spanky


If you think you could be a great match for Spanky and have interest in adopting him please first fill out an application and then you may contact Mims about Spanky at This email address is being protected from spambots. You need JavaScript enabled to view it.