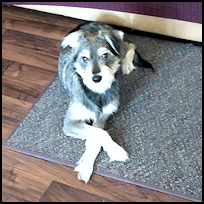 Buddy is a 24-pound schnauzer. He is being fostered in Tallahassee, Florida. The vet thinks he is around 1.5 years old. He is up to date on all of his vaccinations, has been neutered and is on heart worm preventives.

Buddy was found running loose in a neighborhood near his foster mom by a woman that moved shortlythereafter and could not keep him. His foster mom looked diligently for his owner, but no one has come forward.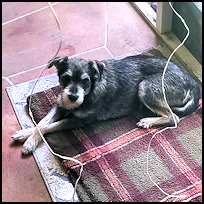 Buddy is a very happy pup who will follow you wherever you go. He loves to be petted, loves to play with toys and loves to chew. He is house broken and will let you know he needs to go out by scratching on the door. He still needs work on leash walking. He just gets so excited that he likes to pull and smell and mark everything in sight on walks. He loves his big back yard at his foster moms where he can chase squirrels, rabbits and lizards. He loves to play ball and do zoomies out there. He loves to run along the fence line with his neighbor Maggie, a large black lab. They have had several play dates in the back yard where they just chase each other.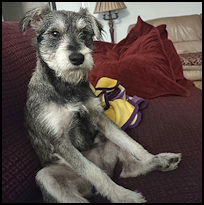 Buddy hasn't met a stranger. When we go to the vet or the pet store, he wants to greet everyone and play with them. When visitors come to the house, he does bark a little and then jumps on them to say hi. For this reason, a home with toddlers may not be a good idea or even very elderly people. He needs to continue training on the jumping and hand/finger grabbing. He loves to be on the couch with his people and lay in your lap. He also sleeps under the covers with his foster mom and dad. He has not been tested with cats.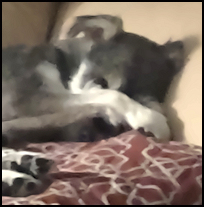 Buddy is still very much a puppy and needs continued training on what is appropriate. He is very mouthy when he plays. He doesn't bite but will grab fingers and hold on to them like his toys. He also does not like to be alone. When his foster parents leave the house, he gets pretty anxious and howls and scratches at the door. Eventually he does lay down in front of the door until they come home.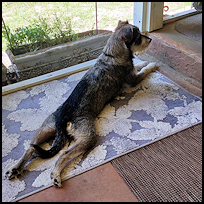 If you think you might be able to provide the love and patience Buddy needs and are willing to work with him, please fill out an application and mention Buddy. He is waiting to show some lucky person or couple what a great dog he can be.