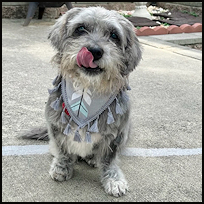 Hi, nice hooman! I'm so happy you are reading my profile, because I'm ready for my forever home. I love my foster mommy and daddy, and they've been telling me that one day soon, a very special hooman is going to choose me. I'm so ready for that, so I'm going to tell you all about me! I'm a healthy, seven-year-old neutered male schnauzer mix, and I'm up to date on everything, plus my choppers have been cleaned and are very shiny. Foster daddy tells me I'm a really good boy, and that's because I love everybody who is hooman or dog. I'm very friendly to strangers. I make friends everywhere I go, and people say I'm a charmer cause I'm so cute and friendly. I love to ride in the car as long as I can be right next to you or in your lap.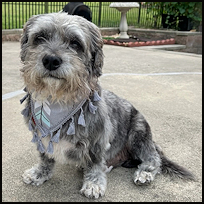 I'm a happy little Velcro dog almost all the time. My most very favorite place is where you are, and preferably in your lap or right next to you. I have a formal name ("Motley," - ugh). No hoomans call me that because they call me Bo. That's much more fitting for me because it's cute, just like me (right?) Here's another thing all you hoomans are going to like – my tail wags all the time, because I'm so happy to be with all you Schnauzer Love Rescue people. I love to jump (no need to ever pick me up – but more about that later), and I'm a prancer. I hold my little head up and I just sashay around because life is good these days!!!! And when it's bedtime, I promise you, I'm headed to your bed - because where else would I sleep, except with you?!!!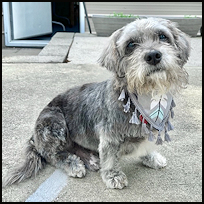 Now, let's get my quirky stuff out in the open. I only have a few of what foster mommy calls, "issues." And trust me, those "issues," are nothing compared to how absolutely adorable and cuddly I am. First: Mr or Ms hooman, you just can't pick me up – I'm sorry and it's sad! I wish I could let you, but I'm too afraid. But trust me, it's not pretty - I get so scared I'll try to bite you. (Side note - The groomer was able to pick Bo up using a towel. He needs someone who will work with him and help him to understand being picked up is safe and that he need not be reactive to it.) You can lure me anywhere though, with treats. You should see foster mommy and daddy entice me into the car with treats. They put little goodies inside the car and I hop right in. It's an awesome way to get treats! Tee Hee. Second: Don't put me in a crate – I'll freak out, Period. Enough said. Third: I don't like it when I'm left alone a long time. I'm ok if I'm left with the other dogs in the house if you leave for just a few hours. But if it's all day, I get so scared. Foster mommy says it is called separation anxiety and I might chew up
blankets and stuff.

Now back to more good things about me, because my wonderful, happy side is so much bigger than my fearful side. I just love to sniff around in the backyard. I'm always wagging my tail, and I dance around. Treats and meals are fabulous, so keep them coming! When I walk, I hold my head up high because I know I'm sweet and cute; foster mommy and daddy call me a little gentleman. I'm still learning to walk on a leash; I do ok, but need more practice.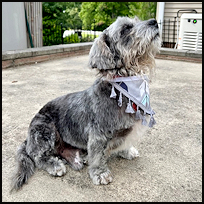 My perfect home is one where there is at least one other friendly dog, so I'll feel safe. I don't play with other dogs, but I really like them. They help me be calm when we're alone. Oh yes, I know little kids are adorable, but they try to pick me up so I'm not a big fan – so none of them in my new home, please.When you have company, I'll be so happy and excited; they can pet me all they want! If you are retired or are home a lot and just looking for a sweet lap dog, I'm your little man! I need a fenced back yard to sniff and run around in and someone to watch over me when I'm outside. I was a stray, and I'm still learning about being part of a pack, and the street life still sort of calls to me. I also need an owner who is experienced and patient so you'll understand my little quirks. And more than anything, I just need a place where you'll love me, let me sit in your lap and sleep with you. If you decide you just can't live without me, please submit an application to adopt me at www.schnauzerloverescue.net.