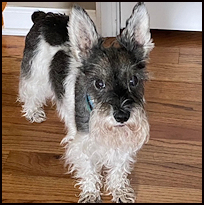 Hello, hoomans!! I'm Piper and I'm a very, very handsome and super sweet gentleman (I know; hoomans often say I'm cute). I'm 12 years old and I'm looking for my forever home. I lived with a nice family for many years; they had two little girls and I loved them all. But they had to move all the way across the country and they were worried that the move would be too much for me. Well, I miss them, but my foster mommy is so sweet to me and I like it here (and I love her pepperoni treats). But she's been telling me that I'll find my forever family soon and that is what I really want.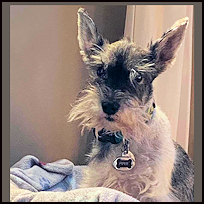 I like little kids and other dogs – big dogs or other schnauzies – they're all good, but mainly I need a home with hoomans who will love me and take good care of me, and pet me a lot. Foster mommy says I deserve that because if you look up "really good boy," in the dictionary, my picture would be there. I like that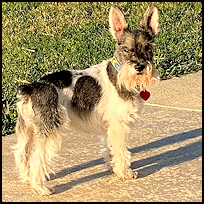 I have to be honest, so I need to tell you about my grade 5 heart murmur. I take medications in the morning and evening and they come with treats, which get me pretty excited so I like taking my meds. I also like to sniff around the back yard (I am a schnauzer, after all!) or if you take me for short walks, I love to sniff. I can't take long walks, but short walks are lovely. Foster mommy says I'm chill and such a good boy. I go all night without accidents and I do fine during the day while they're at work. I love to be petted and I'll play with toys a bit. I am not bothered by noise (remember I grew up with noisy little girls!!!!) and foster mommy says maybe my hearing fading a bit. I am so good with my potty habits and foster mommy gives me a treat whenever I come in from going potty and those make me very happy!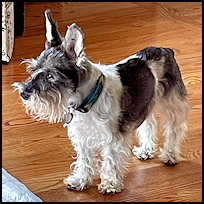 I really love my dog beds; they're so comfy and cozy. And sometimes I'll just nap on the floor. As long as I'm near you, I'm happy. You see, I love to be petted. It makes me soooooo happy. I'd prefer to sit near you so you can pet me – all day long would be wonderful. Hahaha! Of course, I am neutered and up to date on my vaccinations. I am ready for my forever home. I am waiting and counting the days until just the right humans can't resist my handsomeness and come to take me home. If you'd like to apply to adopt me, please go to www.schnauzerloverescue.net and ask for Piper in TN. — with Leigh Ann Manfre-Stone and Angela Mercer Burns.