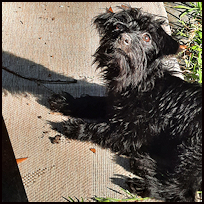 Hi. It's Onyx, a small schnauzer, non-shedding mix also known as String Bean (I am long and skinny) aka Pippi Longstocking (again long and skinny) aka Pipsqueak, Pips, Squirt, Little Bit ( all pretty self explanatory). You might be wondering why a little 7# mite like me has so many monikers. Well, I am indescribable of course! And did I mention I was cute!?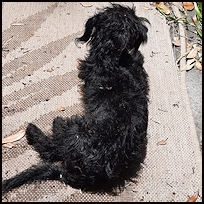 I don't care what you humans call me as long as you have tasty treats, fun toys, a cozy bed, and oodles and oodles of love for me.
I am young, maybe 4 or 5 months old, and still learning my way in the world. I would like to live with someone who is willing to keep working with me on learning all the things I need to know so I can be the best pal ever. I would not mind if you adopted my sister Ebony too.


I am good in a crate and pretty well leash trained and mostly potty trained. I am spay and current on shots and will likely weigh between 10-15 pounds at maturity. I have been told I should probably go to school. I don't know why as I am pretty smart already. I have heard there are classes on obedience, but I do hope they teach a proper squirrel chasing class. Such fun!
And I am already versed in the ways of housekeeping. I try my very best to be helpful by picking things up. Somehow the socks never make it to the laundry room, though
.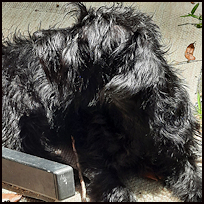 I like to spend my days sniffing, playing, running and sunning in a fenced yard. I love to go on walks on a leash so everyone can revel in my cuteness.
I love dogs, except that big scary black bark machine next door who sticks his head through the fence at me. I let him know in no uncertain terms I am just as big as he is! (although i will probably always be little in size) I am not a big barker like lots of schnauzers I know. (not naming names, Winston).
I also like cats, much to the dismay of one of the ones I am living with. And I like people, too. I might be a little wary at first until I get to know you better, but once that happens mi casa es su casa!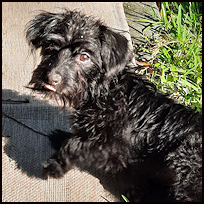 So if you love dogs, have the patience to stick with my training as I learn, have another dog that doesn't mind being pounced on many times throughout the day, then maybe your people could talk to my people. Give us a holler! I will be waiting to pounce into your life and my forever home! (batteries included)