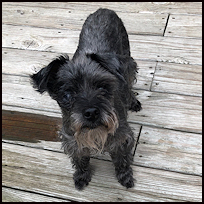 Jackson is a adorable small black senior schnauzer. We estimate his age at 12-14 years. He is only 12 lbs. He is being fostered lovingly in Gainesville, GA.
Jackson is very sweet and gets along well with the resident pack of 5 schnauzers, both male and female. We have no idea how he would do with cats. He is leash and crate trained and housebroken, sleeps in his dog beds during the day and at night, rides in cars well, eats well and has yet to bark which is amazing for a schnauzer.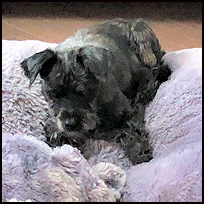 He does have cataracts in both eyes which makes his night vision not too great. He goes up stairs with no problem but is a little hesitant to go down a long flight. He walks and trots but never runs--he's a chill boy. He has early stage kidney disease so he eats Hills Science Kidney diet ( dry and canned mix) and loves it plus an occasional Grandma Lucy's natural dog animal cracker cookie. He does have a lot of small bumps/cysts on his body but they don't seem to bother him. His recently had a dental ( he lost 9 teeth but doesn't miss them at all) and has been fully vetted with shots and all Senior lab work. He is not crazy about anyone messing around his face, and will try to squirm away but he does not snap or bite at anyone.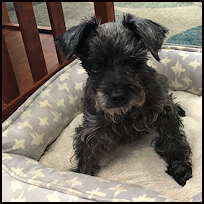 Jackson would do best in a quiet home with no small children and needs a fenced back yard in a home where he could live out his remaining golden years with someone who will love him dearly. He is a joy to have around. If you are that very special person who wants to give Jackson a loving home, please fill out an application and ask for Jackson in Gainesville, Georgia.