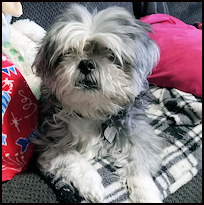 Gucci is a sweet, super happy little senior Lhasa Apso. He came to Schnauzer Love Rescue after he wassurrendered to a shelter in Kingsport, TN, where he was scared and nervous. Since he is blind, theenvironment was very stressful to him. The staff wanted to get him out of the noise and chaos of theshelter and into the hands of a rescue, so they asked Schnauzer Love to take him. We couldn't say no tothat sweet face, so his new foster mom took him home. As you can see from his pictures, he came to uswith lots of fur. We don't think he had ever been properly groomed, but his shave transformed him andbrought out Gucci's inner puppy! He's been prancing around, feeling even perkier than before.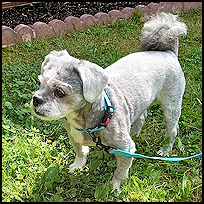 Gucci is neutered, is up to date on all his vaccines, and is in excellent health at 11 years old! He never meets a stranger and absolutely loves every human and canine he meets. Even though he is blind, he knows when there's a cat around and will chase them, and his limited vision doesn't get in the way of his joy! He is eager to ride in the car and is a wonderful travel companion. He plays with toys and could be happy with other dogs or as an only dog. He has beautiful potty manners and is trained to use a puppy pad if he is left alone for too long, such as a long work day. He walks well on a leash, does not dig and doesn't even bark a lot, but he does alert you if someone is at your door. Then he welcomes the visitor with a wagging tail and kisses. He'd be great in an apartment or condo or house; it doesn't matter to Gucci. All that matters is that he is with his human because he will be your shadow. He will gladly sleep with you in bed or on the couch.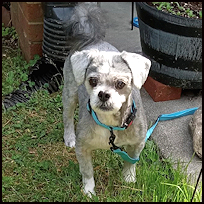 Gucci loves mealtime and loves walks. His only medical issue is that he had ear infections when we got him, which were resolved with two rounds of antibiotics and packing. His ears are now in good shape and should be monitored. Gucci recently was groomed and feels so much better since all those awful mats have been shaved off. He's perky and playing even more than before. Gucci is happy with his foster mom, but really is ready for his loving new parent. His ideal home is a quiet, loving household, but he does like children, too. If you think you could be the right match for sweet, adorable Gucci, please go to www.schnauzerloveresuce.net then go to the Applications and complete an adoption application. Be sure to ask for Gucci in Tennessee.