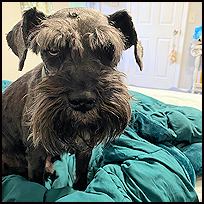 I am a sweet love bug being fostered in Kennesaw, GA. I weigh 24 lbs. with natural ears and a docked tail. I had a birthday on April 23rd so I just turned 12 years old.


At my recent vet appointment, the vet found that my blood work was perfect. I also had a dental with no teeth lost!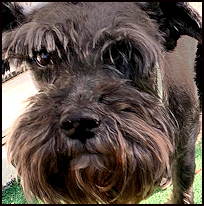 I have been submissive with the 3 resident Schnauzers in my foster home and just go with the flow. I love running around in the fenced yard! I am a bit of a puller on the leash so a good harness is best for keeping me well controlled. I am also good with children, but not with cats. I am housetrained, and crate trained. I like to go for a car ride. I like sleeping on my dog bed, but would also like to sleep on my person's bed if allowed. I am your great all-around well behaved guy.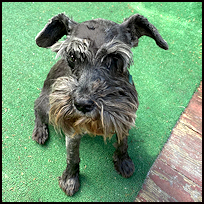 Prieto came to Schnauzer Love Rescue along with his two siblings when his owner could no longer take care of them. Prieto has one eye. The other was removed 5 years ago due to cancer which they got fully. He has adjusted great to having just one I and can still do steps but a little light helps. One eye does not slow him down. He is very affectionate and loves to lay his head on your lap and cuddle and just wants love and attention.
If you might be the person for this sweet boy, please fill out an application now and ask for Prieto. He will be waiting!