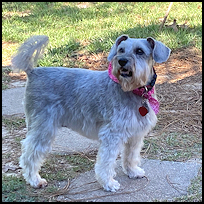 '
Anuska' is 10 years young. She is being fostered in FL. If after reading her biography, you are interested in knowing more details about her, please complete an adoption application on the SLR web site and enter Anuska as the loving dog you would like to provide a forever home to.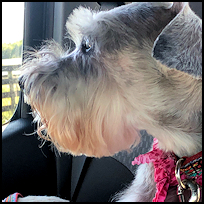 The definition of the word, Anuska, is: loving, loyal – appreciates anything given to her. Anuska came into SLR when her owner passed away. It is obvious that she was lovingly cared for. Anuska has a silver coat and weighs approximately 22 lbs. She has given up packaged treats for healthier ones in order to lose a few pounds! She has natural ears and tail, is spayed and current on all vaccinations. She is house and crate trained (a crate is not needed). Anuska is learning to walk properly on a leash, though she prefers running freely in a fenced-in yard, as she is so energetic. Anuska would love a family that is home most of the time.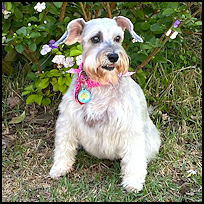 Anuska is fine with other dogs in the home, but has designated herself as 'Queen of the Couch.' If she is already on the couch, she will let the resident dogs know if it is okay for them to jump up to be near her. Anuska is working on her friendships with the foster's dogs. She loves to chase the resident cats, although she has never caught one yet! Anuska will 'speak' to you and let you know what she wants – treats, food, or just to be petted. She loves being loved. She is a happy and healthy Schnauzer.


If you feel you can meet Anuska's needs –
* Fenced-In backyard
* Time to pet and cuddle with
* Home most of the time


please go to our web site and complete an adoption application and enter 'Anuska' as the dog you would like to provide a loving, forever home to.