Tucker Needs an Adopter Who Appreciates His Schnauzer-tude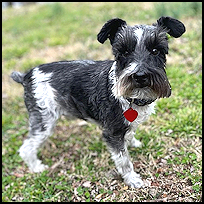 Hey there! If you are looking for an off-the-charts adorable schnauzer with some Tucker Schnauzer-tude, I'm your guy!!!! Some people think because I'm this little fella (10 lbs.) that I'm a pushover. Well, I'm here to tell you No Way. Until we get to know each other really well, don't be trying personal stuff- like cleaning my face or my paws, or trying to put a stupid sweater or blankets on me. Just give me some space until I get settled and realize you're cool. I'm 6 years old so I know what I like. I'm healthy and have all my vaccinations (of course) and neutered (of course). And as you can tell from my precious pictures, I'm all miniature schnauzer! Black and white parti-colored, which makes me handsome as all get out.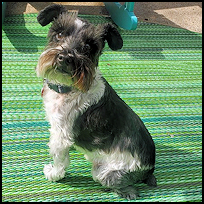 It doesn't matter if you are male or female human – I don't discriminate – you'll need to let me get used to things, IF I decide to come live with you. And that's a big IF, because in order for me to go with anyone new, you'll have to pass the Tucker Schnauzer-tude test. But once I come home with you and you give me some "me" time to adjust, I'll be sweet and loving – your BFF. I really want a loving, savvy, schnauzer-experienced human because they know how to work with my Schnauzer-tude. I am not grumpy or temperamental as some people have said; that's so rude. I'm just particular.
My awesome foster mom and I have been discussing what's on my Schnauzer-tude wish list for a new forever home. We both say I need the following: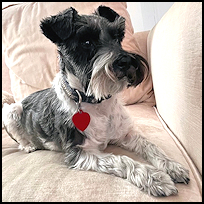 I love to be with people, especially my personal humans, even when that Tucker Schnauzer-tude is on display. One of my favorite ways to move around the place is for you to carry me. And please take me walking in the neighborhood – it makes me so happy and actually, you'll notice that I put most other schnauzers to shame when I'm on a leash. Silly dogs or cats can go right past, and I'll just keep prancing on my merry way. They're not worthy of my attention, you see. And speaking of other pets, I'll have to be your one and only for me to come live with you because honestly, I just don't like them. I have no tolerance for pets inside my house, because they're so annoying.
You can have human visitors over and I might like them, after I've barked at them. They can give me treats to help me like them; then I'll decide if they're OK or not. Of course, I don't dig or potty in the house – that would be beneath me. I could live in a condo or apartment or a house. I don't care if you have a fenced backyard or not, as long as we walk. I'm not one of the dumb dogs that tries to escape. I know where the kibble is and where the warm beds are. Speaking of furniture (beds to me) I just love to burrow into your blankets on the couch; it's so comfy. I won't tear up your nice things, so you can trust me. But I have delicate skin and you have to buy a certain food for sensitive guys like me.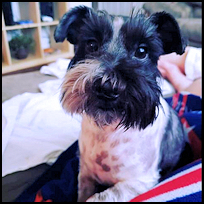 Now this last thing, I am kind of embarrassed about. So don't tell anyone. I don't know how to play. It's really kinda sad. I'd like to learn, so I'm hoping once I trust you, you'll help me figure out how to play with those balls or squeaky things. My previous owner must have used his hands to play with me, so I think they're toys. I don't bite hands when we play, but I try to grab them. So my foster mom thinks it would be better if I learned how to play with things that aren't attached to a human. And as you teach me new things, I'll learn faster if treats are involved. Since I'm so intelligent, it won't take too long for me to learn. If your can meet all of my Schnauzer-tude needs, please apply to adopt me, and ask for Tucker in Tennessee.