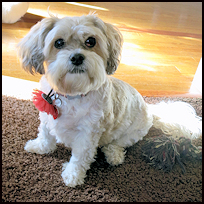 Hi, I'm Shelbi! I am a 12 year old white and tan female Shih Tzu/ Bichon Frise mix. I weigh 14 lbs and I have very soft and silky hair with a long natural tail and I shed very little. I am currently being fostered in Buford, GA.
My foster mom says I'm one of the sweetest foster dogs she's ever had. I love sitting in your lap and getting a lot of attention. In fact I'm quite vocal when I want your attention. I like to talk a lot when I want to sit with you, when it's time for my meals, or if I just need you to look at me instead of whatever you're looking at. And I love giving kisses...all the time. If you don't like kisses we might not be a good match because that's how I show you how much I love you. I will make someone the best companion dog and I get along with other dogs too!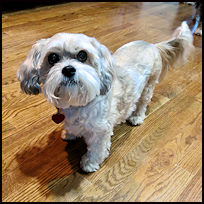 I'm up to date on my shots and I'm spayed. I do have a luxating patella but as long as you don't let me jump big distances I get along just fine. I do well on a leash but I don't really care for walking long distances. My prior parents were elderly so I don't remember doing much walking with them.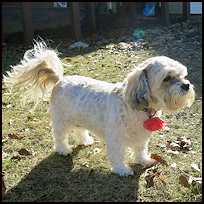 Speaking of my prior home, I was loved for a very long time but my parent died and I had no where else to go. So here I am in rescue looking for someone else to love me just as much as they did. My foster mom says you can tell I was spoiled rotten and loved very much.
I am on a special urinary food because I had bladder stones a few years back and I sure don't want to get those again. I'll stick to my urinary food, thank you. But for that reason I'll need someone who can take me outside to potty on a regular basis, someone who is home most of the day or can come home to let me out. My foster mom says I seem to be housebroken/ potty trained but that may be because she takes me out a lot. And the good thing is I will do my tinkle business pretty much on command, as soon as my feet hit the ground outside.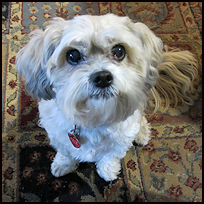 So if you are looking for a sweet dog to be your best friend and companion then I might be just the dog for you. Fill out an application and mention my name. I'm Shelbi!