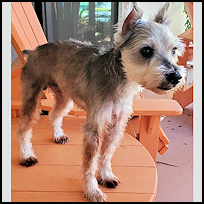 Brave 'Beacon' is ten years young. He is being fostered in TN. If after reading his biography, you are interested in knowing more details about Beacon, please complete an adoption application on the SLR web site and enter Beacon as the handsome dog you would like to provide a forever home to.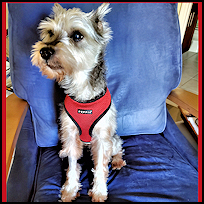 Beacon could have starred in the movie, 'Home Alone.' That is exactly what happened to him when his senior parents were both admitted to the hospital at the same time. Beacon was left in his home to fend for himself for several days. When SLR was called, Beacon was in his safe foster home within 3 hours.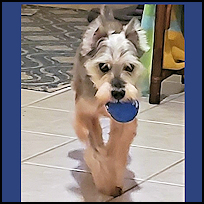 Beacon is salt & pepper and weighs 16 lbs. He has cropped ears and a docked tail. He is house trained and crate trained. Beacon continues to work on his leash training. Of course he is neutered and up-to-date on all of his shots. Beacon has perfect manners within his foster's home. This seems to be his comfort zone. He very rarely barks when at home unless he hears a loud, unexpected noise. Beacon must have a single, family home with no steps and with a fenced-in yard. He needs an adult only home with no other pets.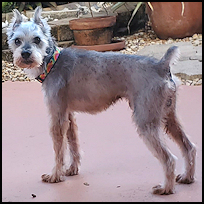 From his actions, it is felt that Beacon lived a very sheltered life for the past 10 years. He is very fearful when going out of his foster's home for a walk. It is overwhelming for him to see people, cars or bikes. He gets very anxious and will emit a high-pitched bark. He much prefers to go out into a fenced-in yard, do what he needs to do, and return immediately into the safety of his home. He can be left alone for up to 5 hrs. He likes to play with a ball in his foster's home. This 'Beacon' of light is waiting to brighten up his forever home.


As you can see from his pictures, Beacon is quite photogenic. If you are confident that you could meet ALL of Beacon's needs, please go to our web site and complete an adoption application and enter 'Beacon' as the 'Home Alone Dog' you would like to provide a loving home to.