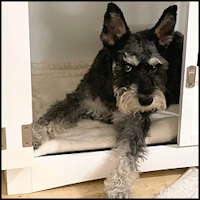 Serene, Senior Sebastian is looking for someone to love him and take care of him in his golden years. Unfortunately, his owner, who loved him for years, passed away. He is approximately 15 years old and is being fostered in FL. If after reading his biography, you are interested in knowing additional details about Sebastian, please complete an adoption application on the SLR web site and enter Sebastian as the senior gentleman you would like to provide a loving home to.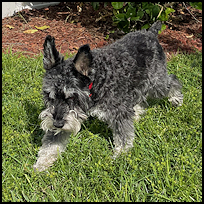 Sebastian is a sweet, senior gentleman. He is black and silver with natural ears and a docked tail. He weighs 19 lbs. He is leash trained, crate trained and house trained (but does have those 'senior' accidents every so often). He is of course, up-to-date on all of his shots. He is not an 'Alpha,' and enjoys the others dogs in his foster home but would be fine as an only dog also. No young children or felines for this senior boy.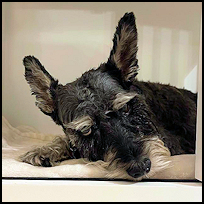 Sebastian needs a fenced in yard to roam in and will bark at the neighbors if they are speaking too loudly! Sebastian had a large lipoma removed and his gait is now so much better. After laying down for awhile, he may occasionally require some assistance when getting up and making his rounds in the house. It helps for Sebastian to have carpet or runners in the home for traction and a one story home.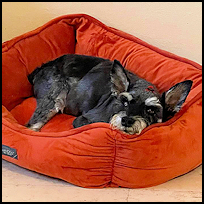 As you can see from his pictures, Sebastian is quite a handsome, senior Schnauzer. If you are confident that you can meet ALL of Sebastian's needs, please go to our web site and complete an adoption application and enter 'Sebastian' as the serene, senior Schnauzer you would like to offer a loving home to.