Buddy is a sweet senior boy and his true age is unknown but the vet thought he was around 13. He has natural ears, a docked tail, and weighs about 14 pounds. He's salt and pepper, with a black mask across his eyes. He's up to date on his shots, is on heartworm and flea/tick prevention, and was neutered on 11/3/2021.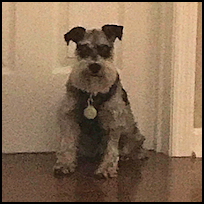 Buddy has been through a lot and needs someone who has the patience to help him learn how to be a dog again. He is shy. We're not sure what he experienced in his life before SLR. He is housebroken, gets along well with other dogs, doesn't seem to be bothered by cats, has not been exposed to children with us, but I'm sure would be fine with them.
He loves to walk, and we go on two 15-minute walks each day. He has a great appetite and right now is on Hill's Prescription I/D to help with his sensitive stomach. He eats twice a day, and some days lets us know he'd like some lunch, too. Buddy travels well in the car. He first slept in his kennel when he came to us, but now has range of the whole house. He loves his fuzzy bed and sleeps in it all night. He lets us sleep in on weekends until about 8:30 a.m., which is a nice surprise!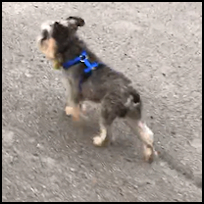 If you're looking for a vocal watchdog, Buddy is not your man. He hardly ever barks and doesn't even bark when we come home, or someone comes in. He'd be a great pet for someone in an apartment or condo. His eyesight is not great, but he hears well, and his heart is very healthy, according to our vet. His bloodwork was done on 9/23/21 was great. He doesn't know common commands, or maybe he does and is stubborn! But he is such a good boy it really doesn't matter.

He is looking for a home with people who don't care about the age of the pup they adopt but want a sweet, gentle boy to love for the rest of his life. After you have successfully completed SLR's application process and are interested in Buddy, please contact Bonnie at bhoskins85@gmail.com. She would be happy to answer any questions you may have.