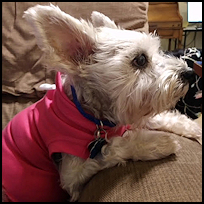 The name "Mandy" is of Latin-American origin and it means "worthy of love", it's really a great name for a love song. Foster Mandy is worthy of love. If you can share yourself with Mandy, fill out an application online and request Mandy.
Mandy is a very sweet 12-year-old female Schnauzer Mix (possibly Bichon or Yorkie). Mandy is silver-white in color, has natural ears, a docked tail, and is a small girl weighing just 15 lbs. Due to her owner's illness, Mandy was surrendered to a shelter and Schnauzer Love Rescue took her in.
Mandy can be an apartment or condo dweller; any type of living quarters will do as long as she is loved and appreciated for her senior-ness.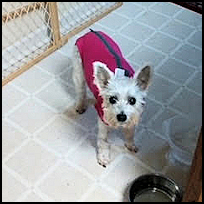 Mandy is a quiet gal. Likes her routine of breakfast, potty, and a nap. A few naps during the day, a snack or two. Then dinner, potty, and bedtime. Mandy lets you know she has to potty by spinning around in a circle. She does like to 'patrol' the yard/fence-line. She visits with the neighbor's rabbit at the back fence.
Mandy has Cushing's and is on Vetoryl. She'll need to have occasional blood tests to help keep the Cushing's in check. The vet removed a golf ball size tumor recently and she is recovering nicely, but this too will need to be kept an eye on though there is not much likehood of a return problem. Mandy will have a dental on November 18th and will be ready for adoption then.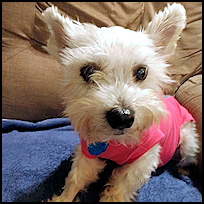 Mandy is on Hill's Science Diet for Sensitive Stomach and Skin. Her favorite snack is green beans, not salted, please. Mandy is spayed, up-to-date on shots, Heartworm Test, and on Heartworm and Flea Preventatives.

Mandy is a good girl at bath time. She will lie still while you brush her and scratch her back. Her sweet personality really comes out if you have her come to you and offer Blue Buffalo soft treats.


Mandy gets along well with the foster's male Schnauzer. He is a big boy at 11 years old and weighs 10 lbs. more than Mandy. The foster mom kept her niece's Bichon Frise for a few days and they all got along well together. We are not sure how Mandy is around cats.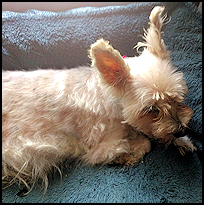 Mandy likes to ride in the car to pick up the foster's neighbor children from school. The foster mom says Mandy likes it when her family comes over and she gets gentle pets. When she has enough of that, Mandy will retreat to her bed.


If you are interested in Mandy and have had your phone interview, contact This email address is being protected from spambots. You need JavaScript enabled to view it. for more information.