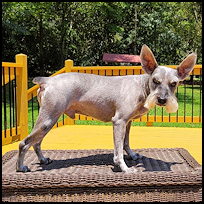 The name Sharkey comes from Irish origins and means Beloved. With a meaning of someone feeling a great affection for. Sharkey is looking for a home where he will be considered someone's beloved. If you believe you can provide for this sweet rescue, fill out an application online. After you have your phone interview, you may request information from your state interviewer or email kathleengerry@gmail.com.
Sharkey is a 7-year-old gray Mini-Schnauzer. He has natural standing ears, a docked tail, and weighs 16 lbs. Sharkey is up-to-date on his shots, Heartworm test, and is on Heartworm Preventatives. Sharkey recently had a dental and had five teeth extracted; good gums, reports the vet. He is being fostered in SC.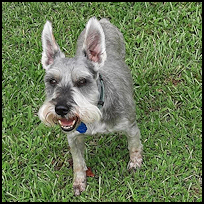 Sharkey is very active and loves to run around the yard and play chase, especially if accompanied by another dog or people. When inside, he wants to be where all the action is. Sharkey will sit next to you or in your lap while watching tv. He is very friendly and good with other dogs and loves people. We are not sure how he is around young children, so a home with older children or an active adult home would be his best bet. He is ok with kitty cats; he just sniffs them and walks away.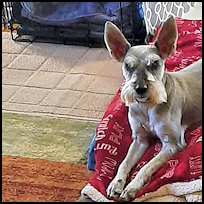 Sharkey eats twice a day. He enjoys snacks in between his meals. Plus, he gets a Greenie Dental treat daily. Sharkey sleeps in a crate, but likes the door open. He does not appreciate hardwood floors and hesitates walking on them, nothing a few throw rugs couldn't handle.
When he was with his original owners, he got loose and was hit by a car. The neighbors took Sharkey not long after that and had him 2.5 years until recently; as they were expecting a baby and felt they could not give him the attention needed.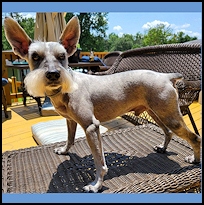 Sharkey has some knee resistance in standing up from a prone position in the morning, could be arthritis. Though he is house trained, Sharkey wears a belly band because he sometimes has urine dribbles. He occasionally drops little surprises because he can not contract his sphincter muscles firmly. If he is let out frequently, he can do his business well both ways and not give out little surprises.
Sharkey does well when groomed. As with most Schnauzers, Sharkey does bark when he is excited to see you or when his pack mates sound the alarm.
Will you open your home to Sharkey? He needs a permanent home with people who will love him for the special dog he is! Be his Beloved!