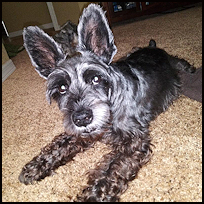 Carlito (kar – LEE-toh) just celebrated his 11th birthday. He is being fostered in FL. If after reading his biography, you are interested in adopting Carlito, please complete an adoption application on the SLR web site and enter Carlito as the loving, playful dog you would like to provide a forever home to.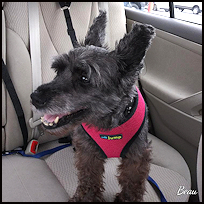 Carlito is a sweet, playful boy who is looking for his special forever home. He is black & silver and weighs 21 lbs. He has natural ears and a docked tail. He is house trained and leash trained. The foster does not use a crate. Of course Carlito is neutered and up-to-date on all of his shots. He had a dental and had several teeth extracted. The remaining teeth are now pearly white. He has age appropriate cataracts. There are no issues with his sight.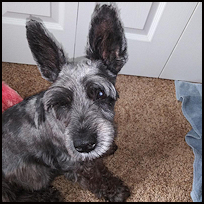 If you had to describe Carlito in one word, it would most definitely be 'Playful!' He loves his toys. He will throw them in the air or roll over them on the floor. He wants to play throughout the day. He tries to get the other (4) dogs in the house involved with his antics. He most definitely needs a playful companion. He is not an Alpha – just needs a buddy or two who will appreciate his playfulness. Carlito loves having his humans in the house. He gets anxious if they are not home and will bark for them to return.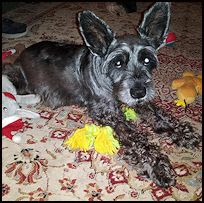 Carlito has a heart murmur – it is only a level 4. He takes a daily medication for it. He will need various routine check-ups to monitor this condition. Carlito considers himself the protector of his person when taking his daily walks – typical Schnauzer barking to guard his person against any other dog they may encounter. Carlito's foster parents describe him as an 'absolute delight.' He needs an adult home only, a fenced-in yard, no cats, and at least one other playful dog, who will enjoy having a very energetic buddy to play with.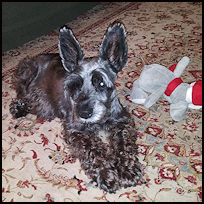 If you are confident that you can meet ALL of Carlito's needs, please go to our web site and complete an adoption application and enter 'Carlito' as the loving, playful dog you would like to offer a forever home to. If you have an active application and had your interview, please contact your state interviewer to request additional information.