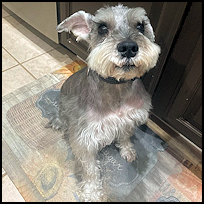 My name is Blanket, and yes, I will totally take advantage when you say you need a blanket for the couch...BOOM, I'm there! Blanket is 10 yrs.old and being fostered in the Florida Panhandle. If you think he might be the boy for you, please fill out an application and ask for Blanket.


I'm a bigger boy, but in great shape at 10 years old. I have my teeth, my fur, my sight, my hearing, and my health! I am also very vocal as I use my schnauzer grumble to discuss important matters with you! Breakfast time? Grumble grumble. Told me to sit? Okay fine, but grumble grumble. Play time? Oh boy! Grumble grumble! To be honest, some of my grumbles can sound nastier than I am, but with a loving owner( who is a strong pack leader) and who shows/tells me my boundaries, I will oblige!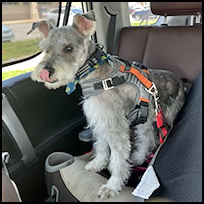 I get along with the entire pack of 4 here at my foster home. I even LOVE playing with the 3 year old here! He sure gets a kick out of my antics- especially tug of war, my favorite! Though I love children and people, I should always be supervised with young ones so that everyone stays safe. I walk well on-leash and know several commands very well: sit, bed, stay, off, no, kennel. I even listen to the commands! I can use a dog door, and I never soil or tear up the house. I am a gentleman in that respect.


If you have other dogs, I prefer to be fed alone. My foster mom prepares my food with the rest and then lets me eat in the laundry room in peace...of course I have to sit, wait, and then be released. It's tough to wait, but boundaries are important and I can do it! Please don't interrupt my meal or attempt to pull me or push me into a kennel or enclosed area. I respond safely to clear verbal commands and hand signals as opposed to being forced to move.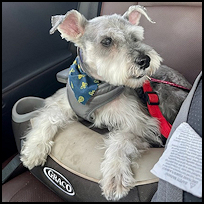 I like to be on the couch or bed, but will politely respect your wishes if you prefer me to sleep on my own bed. Just tell me to get off and lead me to my bed and I'll snooze just as happily there! I also love when ice falls from the freezer...such a calorie conscious snack! I like to play "keep away" with my toys and prefer to follow my human around the house! If you must leave or put me away, I will sing (foster mom says it's a howl, but I disagree) in sadness for about a minute. As soon as I realize I'm not actually dying, I'll settle in my bed and hang out until you come back or come get me. I rest well in a kennel, or in a room with my bed. I will do best with someone who is home often, but I can handle my human going to work/social activities. I like having a licky-mat with peanut butter for those times that I must be left behind/ put away.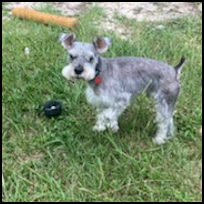 So...anyone need an extra Blanket for their couch? I'm available! I am just as fuzzy and warm as the rest of the blankets,but better...because I'm sound and motion activated. If you are interested in me, Blanket, please fill out an application and ask for Blanket. I will be waiting.