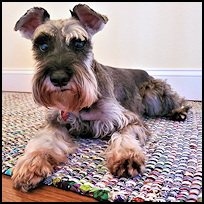 Bodacious 'Benji' is only six years old. He is being fostered in FL. If after reading his biography, you are interested in knowing more details about Benji, please complete an adoption application on the SLR web site and enter Benji as the young dog you would like to provide a forever home to.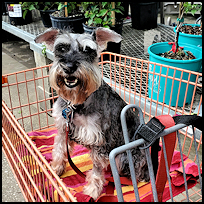 Benji is a handsome, young boy. He is salt & pepper and weighs 19 lbs. He has natural ears and a docked tail. He is completely house trained. The foster does not use a crate. Benji continues to work on his leash training. Of course he is neutered and up-to-date on all of his shots. He knows the commands, 'sit' and 'paw.' Benji loves to ride in a car and in a shopping cart while he shops with his foster mom for plants. He loves playing with toys and having you throw the ball so he can chase it.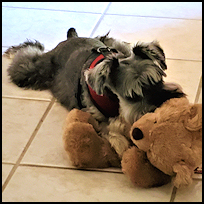 Benji MUST have a strong, experienced, pack leader. He continues to work on having appropriate behavior when meeting other people and dogs, as he seems fearful of new situations. Benji goes on the offense as opposed to the defense when put in new situations. He seems to feel that he is protecting his foster mom from all elements. When on a leash, he will bark and growl at any person or animal that comes close. However, when meeting other dogs in a contained dog park, he is on his best behavior.


While Benji feels it is his job to protect his foster from other people & dogs, Benji feels it is his foster's job to protect him from the vacuum and blender in the house. Initially, he would jump and bark at them but he has learned to tolerate the noise, as has come to understand he has nothing to fear. When the foster goes to work, Benji has no separation anxiety. He does not bark when left alone. Perhaps he is saving up his barking skills for his walks!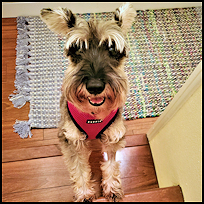 The foster has spoken with a trainer and continues to work with setting boundaries for this young dog. Benji needs an experienced Miniature Schnauzer owner, fenced-in yard at his home, adult home only and no other dogs or cats. He is a healthy boy who needs a structured, loving forever home.
If you are confident that you can meet ALL of Benji's needs, please go to our web site and complete an adoption application and enter 'Benji' as the bodacious dog you would like to offer a forever home to.