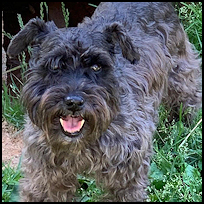 If you are interestedin Sparky the first step is to submit an application and then someone will call you and you will be free to contact us for more information using this email kathleengerry@gmail.com

Want to add a little spark into your life? Then Sparky is your Schnauzer. Actually, Sparky is a sweet and handsome senior guy looking for his permanent home.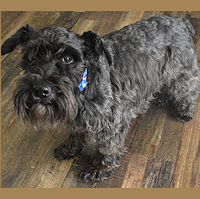 Sparky came into SLR as an owner surrender. He is a 12-year-old neutered male Mini-Schnauzer. Sparky is black with touches of brown. He weighs just 14 lbs., has natural ears, and a docked tail. Sparky is up-to-date on his shots and is on Heartworm Preventatives. He recently had a dental (two teeth pulled) so now his teeth are sparkling white. He also had a lipoma removed. He was a little grumpy before his dental and the removal of the lipoma (probably not feeling very well); it amazing what a little medical TLC can do to improve ones disposition.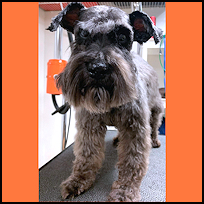 Sparky is good with other dogs and cats. He doesn't seem to mind being groomed either, though he is a little sensitive about being picked up. He is house and leashed trained. He heads to the door to let you know he needs to go out. Sparky lacks appreciation of having to be put into a crate, but he is quiet once in. He has to warm up to you as he is somewhat people shy at first, and then he is sweet and friendly.

Sparky sleeps on a dog bed, and he will curl up on the couch with his humans too to keep them company. He's not into playing with dog toys but he's not a couch potato either. He really enjoys going for walks. Sparky rarely barks. He is not destructive in anyway, and once acclimated in his new home he would be able to roam the house freely. Another great thing about Sparky is that he is good car rider.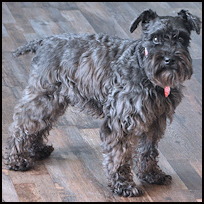 Sparky needs a home with adults only. He can be an apartment or condo dweller; any type of home will do as long as he is loved, cared for and appreciated. Senior dogs like Sparky shine. Request him on your application online. Vet Check, Phone Interview, and a Home Visit must be met. If you pass and are a good fit for Sparky and him for you then the adoption is set.
Why not put some Spark(y) into your world?!