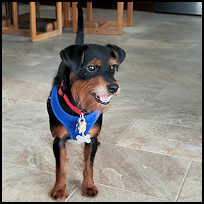 Meet Percy! – Percy is a 'Miniature Schnaupin' (Miniature Schnauzer/MinPin). He is being fostered in FL. If you are interested in Percy, please complete an adoption application on the SLR web site and enter 'Percy' as the boy you are interested in. If you have already had your interview, the foster will contact you to answer any additional questions you may have.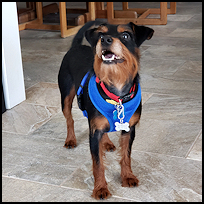 Percy is 2-3 years old and weighs 18 lbs. As you can see from his pictures, he has natural ears and a natural tail. He is mostly black with a little tan – have to love that Schnauzer beard! He sheds very little, is house, crate and leash trained. Percy loves to play with his toys and run around in the fenced-in backyard with the two resident dogs in the home, who he gets along very well with. He can be an Alpha boy at times. No felines for Percy.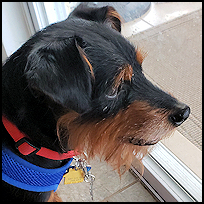 The 'Schnauzer' in Percy will warn you when there is someone outside your home. He will bark to let you know that his Chewy order has been delivered and is at the front door. He enjoys rides in the car but does not enjoy loud noises such as fireworks or thunder. Percy loves to take his daily walk in the neighborhood to check out all the new smells that each day brings.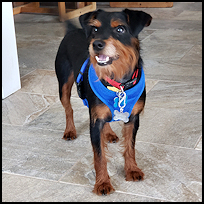 Percy needs a loving adult family (no young children) who will enjoy the puppy stage of his life. He needs a fenced-in yard (no doggie door), lots of toys and a family who will take him on walks to smell the roses. If you meet Percy's needs and are interested in hearing more about him, please complete an adoption application and enter 'Percy' as the playful 'Miniature Schnaupin' you would like to provide a forever home to. If you have already completed an application, please e-mail jamosher@bellsouth.net for additional information.