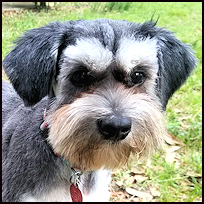 Energetic 'Milo' is a Miniature Schnauzer Mix who is less than two years old. He is being fostered in FL. If after reading his biography, you are interested in knowing more details about Milo, please complete an adoption application on the SLR web site and enter Milo as the young puppy you would like to provide a forever home to.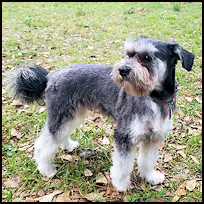 With Milo's long body you can tell that he is definitely a mix. He is black & white and weighs 18 lbs. He has natural ears and a natural tail. He does shed a little. He is house trained, crate trained and continues to work on his leash training. Of course he is neutered and up-to-date on all of his shots. Milo is very smart – he knows the following commands – sit, stay, down, come & shake.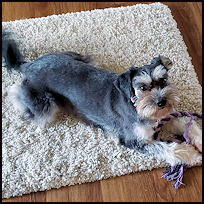 Milo must have a strong, experienced Alpha pack leader who will take time to earn Milo's love and respect. He continues to work on appropriate 'boundaries.' Milo is a 'talker' when playing with you. He will growl at you to take the toy while at the same time wanting to play keep away. Milo's playing can unexpectedly turn into an aggressive growl and may bite. The foster just walks away and playtime stops. Milo will drop the toy and lay down. It's as if he puts himself in time out!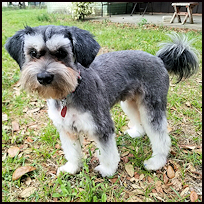 The foster has spoken with a trainer and continues to work with setting boundaries for this young dog. To show who is the pack leader, at this time, Milo is hand fed both of his meals. Milo would definitely benefit from obedience training and because he is so energetic – he would also benefit from agility training.


Milo loves toys with squeakers as he thinks it is his job to pull the squeaker out to make the toy stop from making noise. He would do best with hard Kong toys. While being active most of the day, Milo is ready to settle down in the evening and snuggle on the couch with his person while watching television. He literally tries to put his whole body in his foster's lap with his head on her shoulder. He earns the award for 'Best Snuggler.'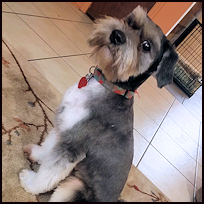 Three 'Musts' for Milo: 'Must' be an only dog, 'Must' be in an adult home only with a strong pack leader and 'Must" have a fenced in yard to run his laps in. If you are confident that you can meet 'Milo's Must List,' please complete an adoption application and enter 'Milo' as the energetic dog you are interested in. If you have an active application, please
e-mail jamosher@bellsouth.net