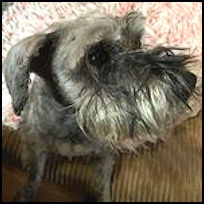 Meet cutie pie "Cricket". She is being fostered in north Alabama. If you are interested in knowing more about Cricket after reading this biography, please complete an adoption application on the SLR website and enter "Cricket " as the sweet lady you would like to provide a forever home. If you have already had your interview, the foster mom will contact you to answer any additional questions you may have.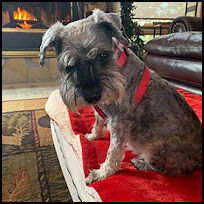 Cricket is 13 years old and weighs about 18 pounds. She is a salt and papper lady with natural ears and a docked tail. She is sprayed and up to date on her shots. She also just had her dental and is HW negative. Cricket is almost completely blind and deaf. She gets eye drops twice a day due to her blindness. She enjoys walks and takes time to smell the roses. Cricket loves healthy low fat snacks.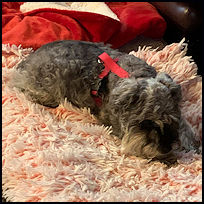 Cricket is super sweet, and she is low maintenance. She will let you know when she needs to go outside. She takes several naps a day. She is very mild mannered. Cricket gets along well with other dogs , cats and children. She has yet to bark.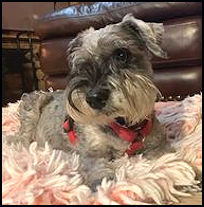 She would do best in a home where someone is home with her most of the time. Cricket came from a home where she was loved. Her elderly owner had cancer and became unable to care for her. She was surrendered to a shelter where she was understandably terrified. She comes with a large bed, fluffy blanket and lots of outfits.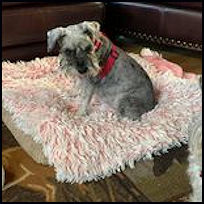 If you feel that you could be Cricket's forever home, please feel out an adoption application and enter Cricket as the precious lady that you are interested in adopting.